Alsatian Food
Your Questions Answered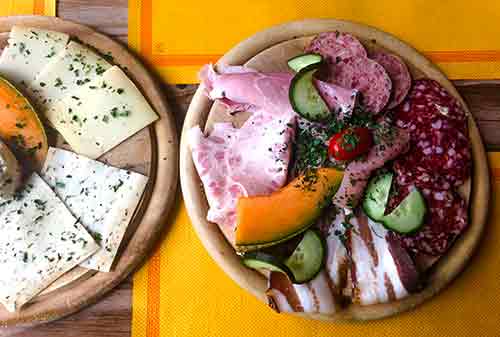 I had a lot of questions about Alsatian food when I first moved to Alsace...

Since then I've learned quite a lot and it has been a pleasure to discover everything that Alsace food has to offer.
And with so many very good restaurants in Alsace, you'll be spoiled for choice.
Unfortunately it can be a difficult subject to learn more about if you don't understand French or German.
And in restaurants in Alsace there are often very bad English translations of the restaurant menu if an English language menu is even available.
I suppose a badly translated menu is better than nothing, but personally I've had more luck sorting out the French restaurant menus on my own...
Which is why I've created a mini French food dictionary and a relatively thorough explanation of what you will typically find in most Alsatian restaurants, so you won't have the same difficulties I had when I first moved to Alsace.
Of course English language restaurant menus in Alsace are easier to find in the more touristy areas.
You may find what you're looking for in the French Supermarkets section of the website...
It's where I explain and post photos of Alsace food (and French food too) that you will find in French grocery stores.
So if you still have a question about food in Alsace after you've looked everywhere else, this is the place to find some answers...
Or maybe you have some information about Alsace cuisine that you would like to share with us!
We'd love to hear about it!
Your Alsatian Food Questions Answered
Do you have a question about food in Alsace? Here's where you can get some answers...

Maybe you have something you would like to share with us about Alsatian cuisine. Or just read about what everyone else has asked.

In any case, we'd love to hear from you!

What Other Visitors at GetAlsaced Have Said about Food in Alsace
Click below to see what other visitors at GetAlsaced have asked about Alsatian cuisine...


More Information
about Alsatian Food

Your Own Personal French Food Dictionary
Shopping in French Supermarkets in Alsace
Alsatian Specialties in Restaurants
French Restaurant Food in Alsace
Alsatian Christmas Cookies: Bredele