Alsace Daytrips from Kintzheim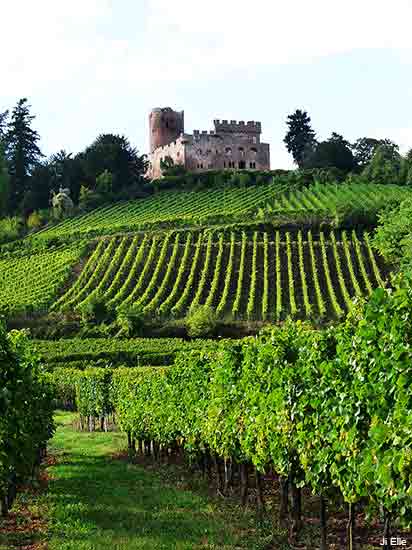 You'll definitely need a car to get to Kintzheim...

Unless of course you are feeling energetic enough to walk or bike the three miles from the train station in Scherwiller.
If you're planning on going to Volerie des Aigles, Montagne des Singes, Cigoland or Haut Koenigsbourg, a car is the easiest and best way to get there anyway.
You will be very centrally located near many very well known villages and attractions in Alsace and you can enjoy a nice quiet, peaceful stay in a less known village(with nice prices to match it!)
Distances given are the approximate distances from the center of Kintzheim.
Villages with a * have a train stop or train station.
Birds of Prey Show
1 mile/2 km
Watching large birds of prey inside the courtyard of a ruined castle (that you can explore either before or after the show) is a great idea for older children (over 10). The younger ones are usually a little scared. It's all in French, but you don't need much translation for this show and it's very close to Monkey Mountain!
Monkey Mountain
2 miles/4 km
If you're travelling with kids of any age, here's something fun for them...feeding monkeys at a monkey sanctuary near Haut Koenigsbourg! It's a great way to spend a few hours of your Alsace vacation. Then you can head on over to the Birds of Prey Show nearby.
Scherwiller*
3 miles/5 km
Scherwiller is known for its Riesling, so if you're a fan, you'll want to stop by. Speaking of which, Scherwiller has a train station so you can drink to your heart's content! And you can make a 45 minute walk to two castles, the Ortenbourg and Ramstein from the village.
Selestat*
4 miles/6 km
Selestat is a small town or a very large village in Alsace that's famous for its 15th century library which contains 70,000 books and documents from the 7th to 16th century and was a part of the medieval Latin School founded in Selestat in 1441. But it's also a beautiful town to wander around in on your Alsace vacation. Check out the Tuesday morning market if you have time...
Haut Koenigsbourg
5 miles/8 km
The Haut Koenigsbourg castle was originally built in 1147 in the Vosges mountains. Like many castles it was enlarged a number of times and updated to deal with changes in warfare. But like most castles in Alsace, it was severely damaged in the Thirty Years War in the 1600s, but it was also fully restored in the 1900s. Haut Koenigsbourg will give you a very clear picture of life in a medieval castle in Alsace.
Bergheim
5 miles/8 km
Bergheim is a quiet little village on the Alsatian Wine Road just past Ribeauville. One of the most amazing things about Bergheim is how it was managed to preserve almost ALL of its medieval city walls. You can walk around the village and see them for yourself before or after trying some of the local wine and food.
Dambach la Ville*
6 miles/10 km
Dambach la Ville is the sort of Alsace wine village where you can walk around anywhere and see something really beautiful, medieval city walls and gates, beautiful old homes and a very interesting chapel. And there is a train station, so you can try one of the 30 wine producers in Dambach la Ville without renting a car!
Looking for a Hotel in Kintzheim?

Les Gites du Relais des Vignes
Here's a lovely gite or vacation apartment next to the vineyards in this wine road village. You'll find an outdoor pool and a nice view of the Chateau  as well. Great for families. There are three apartments in all at this location.