Daytrips from a Hotel in Ribeauvillé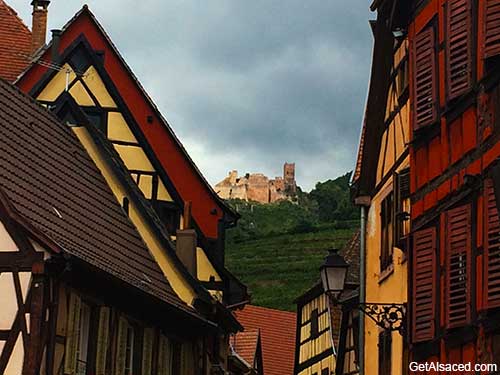 If you're thinking of staying in a hotel in Ribeauvillé, you'll need a car...

Because the train stop listed as Ribeauvillé is actually a few miles or kilometers away from the actual village.
And most of the villages nearby don't have a train station either...
There are quite a few villages close enough to make for a nice ride on your bicycle, but be aware that this area gets a lot of car traffic, so it might not be as serene as other areas on the wine road.
Distances given are the approximate distances from the center of Ribeauvillé.
Villages with a * have a train stop or train station.
Hunawihr
2 miles/3 km
If you find yourself in Riquewihr or that area of the Wine Road in Alsace and you want to get away from the crowds, head over to Hunawihr. It's right next door to Riquewihr and it's beautiful and quiet. You'll find great wine and scenery in a quiet and peaceful setting.
Bergheim
3 miles/5 km
Bergheim is a quiet little village on the Alsatian Wine Road just past Ribeauvillé. One of the most amazing things about Bergheim is how it was managed to preserve almost ALL of its medieval city walls. You can walk around the village and see them for yourself before or after trying some of the local wine and food.
Riquewihr
3 miles/5 km
Riquewihr is considered one of the most beautiful villages in France because visiting Riquewihr is like stepping hundreds of years back into history. Somehow this wine road village managed to survive through countless wars (including World War Two) unscathed. So enjoy it, but remember that there are a lot of other people planning to visit Riquewihr with you especially around July, August, and December.
Kientzheim
5 miles/8 km
Kientzheim (not Kintzheim) is a beautiful little wine road village near Kaysersberg and it's also home to the Confrerie de Saint Etienne and their Alsatian Wine museum. If you want to learn more about the history of Alsatian wine and how it was produced, you might want to stop by.
Kaysersberg
6 miles/10 km
Kaysersberg is a just as beautiful medieval wine road village as Riquewihr with the added bonus of a ruined castle only a 15 minute hike away. The photo at the very top of this webpage was taken in Kaysersberg to give you an idea. So if you want to avoid the crowds in Riquewihr, Kaysersberg might be a good choice for your Alsace vacation. And it's the birthplace of Albert Schweitzer too.
Ammerschwihr
6 miles/10 km
You'll probably pass Ammerschwihr on your way from Turckehim to Kaysersberg and you will definitely see it! It's the one with the huge tower (the Schelmenturm)... If you stop by, you'll have a choice of over 40 wine makers to choose from as you wander through the village. And for those of you who love to golf...
Kintzheim
7 miles/11 km
Kintzheim (not Kientzheim) is a pretty little wine road village in Alsace, but your kids probably aren't going to let you sit around and taste wine until you've taken them to Monkey Mountain (Montagne des Singes), the Birds of Prey show (Volerie des Aigles) and Cigoland which are just ten minutes away. And while you're at the Birds of Prey show you can tour the 13th century Kintzheim castle.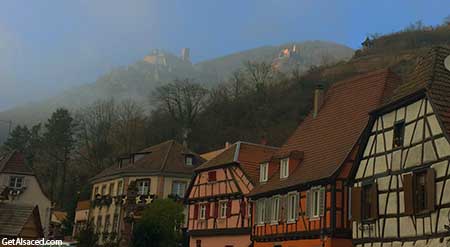 Looking for a Hotel in Ribeauvillé?

The Clos Saint Vincent Hotel is actually about a mile outside of Ribeauvillé overlooking the village and vineyards. Definitely a more luxurious hotel experience with prices to match, but with great customer service, indoor pool, workout room, spa services. Good restaurant, excellent views and free WiFi.
The Hotel de la Tour is a nice mid range hotel very close to the City Hall (Mairie). Rooms are nice, but small which corresponds well with the prices you will pay for those hotel rooms. Tennis court, indoor jacuzzi, bike rental and free WiFi. Free parking very nearby. Restaurant with breakfast available.
Hostellerie des Seigneurs de Ribeaupierre
The Hostellerie des Seigneurs de Ribeaupierre is more of a large bed and breakfast or small boutique hotel in Ribeauvillé. Each room is individually decorated with care and attention to detail. The building itself is a charming old Alsatian building. Breakfast and parking are available. WiFi is not (which can be difficult in some old buildings anyway). Great customer service too!
The Hotel au Lion is a mid range hotel in Ribeauvillé with nicely decorated, clean rooms. The staff is helpful, the restaurant is good and the WiFi is free. There is parking available nearby and this hotel offers a shuttle service from train stations or airports for a fee.
The Caveau de l'Ami Fritz is a mid range small hotel with lots of Alsatian charm and very good food. Nicely decorated rooms in historic buildings. Both rooms and breakfast reasonably priced for its location. Free parking nearby.
Hotel du Mouton is located in a historic 14th building that has been operating as accommodation for travellers since the 16th century. Prices are reasonable for the contemporary styled rooms. Restaurant with breakfast available. Free parking nearby. No WiFi.
If you're looking for a discount hotel, Au Cheval Blanc may work for you. Rooms are very simple and not updated. And so are the prices! The restaurant is reasonably priced as well and good. Free parking nearby. Free WiFi.
The Hotel le Menestrel has nicely decorated modern style rooms. It's about half a mile outside of the historic center of Ribeauvillé. Lots of room for parking. No restaurant, but breakfast is made by the owner who happens to be a baker and pastry maker.
La Maison des Roses Bed and Breakfast
La Maison des Roses is a small bed and breakfast with 3 or 4 possible rooms (some for 2 people and others for 4 or more). Beautifully decorated rooms with prices that match the decor. Quiet and peaceful. Breakfast provided and parking available.
If you would like to stay at a wine maker's house, here's your chance. At Domaine Jean Sipp you have a choice of 2 rooms with mini kitchens (no real cooking possible here). Breakfast is not provided, but parking is.
Gite Alsacien has 4 apartments available in a historic 16th century building. Renovated with typical furnishings found in everyday homes in Alsace. Neither exquisite nor plain. Free parking nearby. No breakfast provided.