Alsace Daytrips from La Petite Pierre Hotels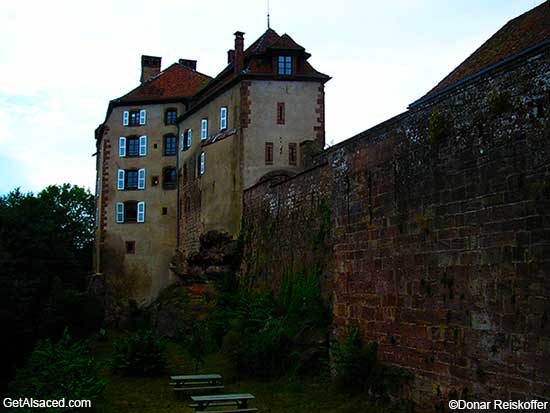 Northern Alsace may seem like a less touristy area, but there are lots of interesting things to do there.

It's only about an hour and a half from the Colmar area (depending on exactly where you are going).
Distances given are the approximate distances from La Petite Pierre.
Villages with a * have a train stop or train station.
Lichtenberg*
12 miles/20 km
Lichtenberg is the name of a small village and its 13th century castle. Unlike most of the castles in Alsace, it was not destroyed by Louis XIV and the 30 Years War, but it was damaged by the Franco Prussian War in 1870. It has been renovated and is available for visiting most of the year.
Saverne*
14 miles/22 km
Saverne has a very long and interesting history. There have been people living here since the Celts. You'll find remnants from the Celts and the Romans as well as a chateau and a medieval castle all within walking distance of each other.
Saint Louis Arzviller
16 miles/26 km
Saint Louis Arzviller is the location of what could be described as a "boat lift" or "boat escalator". It's the only one of its kind in Europe. It's great for kids and there is a summer luge run nearby that your family will love!
Marmoutier
18 miles/30 km
Other than being just another adorable village in Alsace, you can find the oldest (and still standing) basilica in Alsace in Marmoutier. It was originally built in the 600s. Of course it's been repaired and enlarged over the centuries, but it's still a rare find. You can tour its cellars by reservation.
Niederbronn les Bains*
20 miles/33 km
Niederbronn les Bains as you might guess from the name is the source of a natural mineral spring. People have been coming here since Roman times. If you've never been to a French natural spring, here's your chance to relax a little and experience something new and different...
Marlenheim
25 miles/41 km
Marlenheim is considered to be the first stop on the Alsatian wine road (or the last stop depending on which direction you are going). It's a beautiful village not far from Strasbourg and every year the town puts on a traditional Alsatian wedding on the 14th and 15th of August.
Haguenau*
25 miles/40 km
Haguenau was an important village in the high middle ages (1100s-1300s). The Holy Roman Emperor at the time Frederick Barbarossa built city walls, a castle and many other buildings. Like most of Alsace, many buildings were destroyed by Louis XIV and the 30 Years War but like most of Alsace there is still a lot to see.
Accommodation in La Petite Pierre

Au Lion d'Or could be considered one of the smaller La Petite Pierre hotels or a large bed and breakfast. Beautiful views, nice rooms, even a small spa (with treatment rooms, a small swimming pool, and jacuzzi) at a reasonable price. And if you're coming during winter, there is skiing very nearby.
If you're looking at La Petite Pierre hotels for a relaxing French spa experience surrounded by nature, this one might be for you... It is not the hotel for someone trying to keep to a budget, but the prices are not extravagant either. It's just a few kilometers (approximately 1 mile) outside of La Petite Pierre.
If you're looking for La Petite Pierre hotels with an old fashioned Alsatian style decor, this is the hotel for you. There is a choice of basic or beautifully decorated rooms. Some rooms with a great view. Spa facilities, breakfast and restaurant available.
Hotel aux Trois Roses is the budget hotel of the La Petite Pierre hotels. A bit outdated, but clean. Nothing remarkable, but nothing to complain about for the price if you're looking to stick to a budget.