Daytrips from Hotels in Ammerschwihr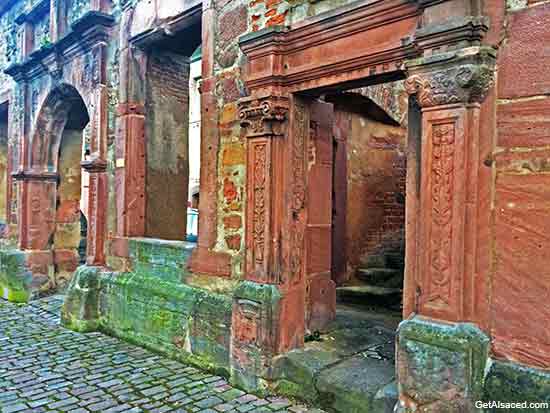 Hotels in Ammerschwihr might be a good choice if you love golf...or wine...

Or great restaurants, hiking through the vineyards for a few hours on your way to other villages...and most importantly peace and quiet...something you won't find as easily in the more touristy villages.
And you will be within a few hours walking distance of over 10 well known villages plus even more lesser known ones...
Just waiting for you to discover them!
Distances given are the approximate distances from the center of Ammerschwihr.
Villages with a * have a train stop or train station.
Kientzheim
1 miles/2 km
Kientzheim (not Kintzheim) is a beautiful little wine road village near Kaysersberg and it's also home to the Confrerie de Saint Etienne and their Alsatian Wine museum. If you want to learn more about the history of Alsatian wine and how it was produced, you might want to stop by.
Kaysersberg
2 miles/4 km
Kaysersberg is a just as beautiful medieval wine road village as Riquewihr with the added bonus of a ruined castle only a 15 minute hike away. The photo at the very top of this webpage was taken in Kaysersberg to give you an idea. So if you want to avoid the crowds in Riquewihr, Kaysersberg might be a good choice for your Alsace vacation. And it's the birthplace of Albert Schweitzer too.
Turckheim*
4 miles/7 km
Turckheim is a beautiful little village on the Alsace Wine Road with a train station! So you can drink as much as you can want... Turckheim has a particular tradition that it has continued (with only two stops) for hundreds years. The Nightwatchman makes his rounds (May 1st to Oct 31st) at 10pm every night.
Riquewihr
6 miles/9 km
Riquewihr is considered one of the most beautiful villages in France because visiting Riquewihr is like stepping hundreds of years back into history. Somehow this wine road village managed to survive through countless wars (including World War Two) unscathed. So enjoy it, but remember that there are a lot of other people planning to visit Riquewihr with you especially around July, August, and December.
Colmar*
6 miles/9 km
Colmar is a medium sized town right in the middle of Alsace. It's on many many people's list of "most beautiful towns in France". The wine business made a lot of people wealthy during the late medieval period so there are a lot of beautiful and unique buildings to look at in Colmar.
Eguisheim
7 miles/11 km
Eguisheim is a very unique wine road village because it was built in circles (one circle inside another circle inside another circle, etc...) and inside those circles are some adorable little cobblestone streets just perfect for taking photographs. And then there's the wine, there are over thirty wine makers in this village!
Hunawihr
7 miles/11 km
If you find yourself in Riquewihr or that area of the Wine Road in Alsace and you want to get away from the crowds, head over to Hunawihr. It's right next door to Riquewihr and it's beautiful and quiet. You'll find great wine and scenery in a quiet and peaceful setting.
Looking for Hotels in Ammerschwihr?

Perhaps you'd like to try a bed and breakfast right next to the vineyards, owned by a wine maker, and with nicely decorated, contemporary style rooms. If so, you might want to check out Domaine Pierre Adam. Each room has a balcony or a patio. Breakfast is included.
How about a hotel with an excellent traditional french restaurant, the Hotel aux Armes de France might be just what you are looking for. Rooms are rather large and decorated in a somewhat old fashioned style. The restaurant was once a Michelen starred restaurant, but has chosen to offer its high quality menus without so much of the "fluff" that is necessary to be a starred restaurant.
LaGrange Prestige Le Domaine du Golf
Instead of hotels in Ammerschwihr, how about an vacation rental apartment. The Lagrange Prestige Le Domaine du Golf has studio, 1 and 2 bedroom apartments available at very reasonable prices. Each apartment comes with a kitchenette. The apartments are simple and clean, nothing luxurious. There is also an indoor swimming pool and a golf course (very rare in France).
A l'Arbre Vert is a restaurant with a few rooms available, so much more like a bed and breakfast than a hotel in Ammerschwihr. The rooms are large and decorated in an old fashioned way, but clean. Breakfast, WiFi and parking are available. The restaurant is nice with reasonable prices.