Alsace Daytrips from Molsheim Hotels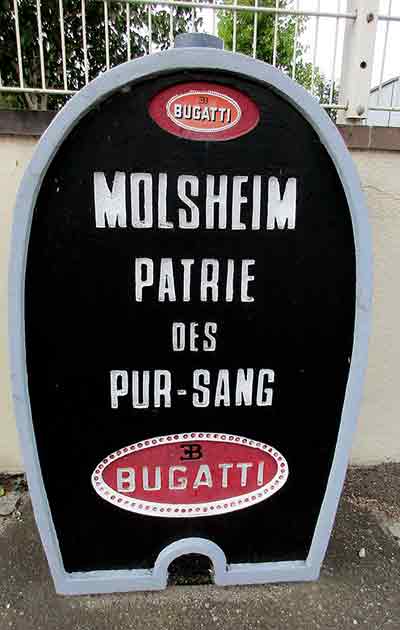 If you decide to stay in Molsheim hotels, these are the nearest attractions...

Lots of interesting things to do for anyone interested in military history, fast cars, ancient history, castles, beautiful Alsatian villages and of course wine!
And Molsheim has a train station for those of you who don't want to rent a car. In fact the train that brings you to Molsheim also makes a stop at the Strasbourg Airport and of course Strasbourg.
Distances given are distances from the center of Molsheim.
Villages with a * have a train stop or train station.
Mutzig*
2 miles/3 km
Mutzig is a small wine producing village in Alsace near Molsheim that is probably more famous for its beer than wine (although it has some excellent wine as well). And for those of you who love military history, there is Fort Mutzig built in the very late 1800s by the German Empire. If World War One history appeals to you, this might be a good stop for you.
Rosheim*
5 miles/7 km
Rosheim is one of the few villages in Alsace that wasn't severely damaged in the Thirty Years War in the 1600s, so there are a lot of beautiful old buildings still intact. One of those beautiful old buildings is the "Pagan House" the oldest residential building in Alsace still standing. Rosheim is also a wine road village if you want a little wine with your history on your Alsace vacation...
Marlenheim
7 miles/12 km
Marlenheim is considered to be the first stop on the Alsatian wine road (or the last stop depending on which direction you are going). It's a beautiful village not far from Strasbourg and every year the town puts on a traditional Alsatian wedding on the 14th and 15th of August.
Obernai*
8 miles/13 km
Obernai is a small town or very large village on the wine road. They've been making wine for over 13 centuries now (starting in the 700s at least). If you loved Colmar, you will really love Obernai! It's a very beautiful town and the vineyards are much closer than in Colmar. Obernai is also the birthplace of the patron saint of Alsace, Sainte Odile.
Ottrott
11 miles/18 km
Ottrott is a beautiful wine village in Alsace with quite a lot of castle ruins if you're interested... It's also the closest village to Mont Sainte Odile and you can walk to it in about an hour or drive. Ottrott is also famous for its Pinot Noir (they've been making it since the 1100s).
Barr*
11 miles/18 km
Barr is a wine road village in Alsace that attracts fewer tourists AND has a train station, but it's not because it's not a beautiful little village with adorable winding cobblestone streets. So if you are looking for a quieter Alsace vacation, Barr might be for you.
Heiligenstein
12 miles/19 km
After you pass Barr if you're on your way to Ottrott or Mont Saint Odile, you'll find the village of Heiligenstein. It's a pretty little wine village with one big difference. They produce Klevener de Heiligenstein wine (which can only be produced in that particular area). It's related to the Traminer family, so if you enjoy Gewurztraminer, you might want to try this historic variety in Alsace.
Looking for Molsheim Hotels?

Hotel Restaurant Diana and Spa
The Hotel Restaurant Diana and Spa is a lovely modern design hotel with three stars that is part of a group of Molsheim hotels. And it's only a 5 minute walk from the train station. Rooms are air conditioned, breakfast, parking and WiFi are available. The spa offers a covered (and heated) pool, sauna and rooms for wellness/massage services. Good food in the restaurant.
The Hotel Le Bugatti is a modern style two star hotel near the former Bugatti factory (the new one is in nearby Dorlisheim). If you're looking to save some money on Molsheim hotels, this is a good hotel choice. Nicely decorated, clean rooms. Parking, WiFi and breakfast available. And you have access to the spa at Hotel Restaurant Diana and Spa at no charge.
The Villa Diana is a small apartment hotel in Molsheim offering large modern style rooms complete with kitchenette and free WiFi. Parking available. And because the Villa Diana is also part of this group of Molsheim hotels, you have access to the spa at Hotel Restaurant Diana and Spa free of charge.