It's just so much easier taking the train in Alsace if your itinerary allows for it.
Although you will need to keep track of what time it is and when your train is coming (especially if they don't come very often).
And Alsace is a particularly great region for traveling by train because it's so small...you're rarely more than an hour or two away (at the most) from your destination.
Like I said earlier you can't reach every adorable village or historic site by taking the train unfortunately. But take a look at what you can do below and see if any of these interesting places to visit in Alsace appeal to you...
You'll find a list of interesting towns and villages with train stations perfect for taking the train in Alsace here.
And if you're looking for more detailed information on the towns and villages in Alsace with train stops, you'll find even more info here...
What's great about train travel in Alsace is:
No maps, GPSs, or getting lost
You can relax on the train, read or enjoy the scenery
Most importantly (if you're only going to make a few short trips) it's less expensive than renting a car

Train Stations and Train Stops in Alsace

Some of the towns and villages will have actual train stations with someone behind a ticket counter and a few taxis outside...
And some of them are just train stops. They might have a public restroom and an automatic train ticket machine because they are very small villages and don't really need anything bigger.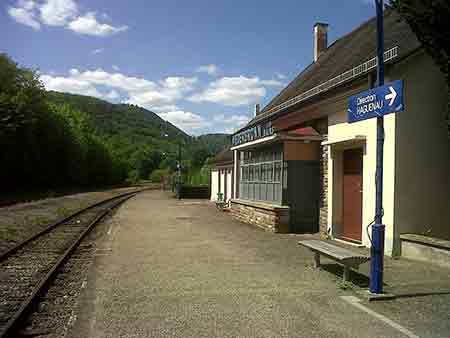 But it'll be no problem for you because you'll have your train schedule with you already, right?

If you find yourself at one of the few train stops with no automatic ticket machine, just get on the train when it arrives. A ticket checker will come by and sell you a ticket. Just tell them where you want to get off the train.

Most likely they know there's no train ticket machine at that train stop.
And if you have your train ticket before you get on the train, remember to get it stamped at the little yellow post!

More Information on Train Travel in Alsace

Alsatian Villages with Train Stations or Train Stops
How to Save Money on Train Travel in Alsace
Your Taking the Train in France Questions Answered