Daytrips from Mittelwihr Hotels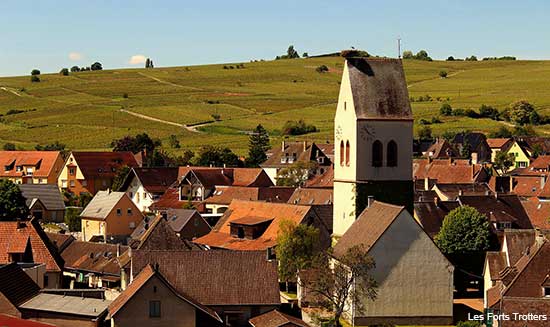 Mittelwihr may not be the most beautiful village in all of Alsace, but it's cute and it is an a fantastic location within less than 10 miles of at least 13 well known destinations in Alsace...

And even more lesser known ones for those of you who want to explore!
Perfect for anyone who enjoys walking, hiking and biking, although I do recommend having a car with you because the closest train stations are at least 6 miles away.
Distances given are the approximate distances from the center of Mittelwihr.
Villages with a * have a train stop or train station.
Riquewihr
2 miles/3 km
Riquewihr is considered one of the most beautiful villages in France because visiting Riquewihr is like stepping hundreds of years back into history. Somehow this wine road village managed to survive through countless wars (including World War Two) unscathed. So enjoy it, but remember that there are a lot of other people planning to visit Riquewihr with you especially around July, August, and December.
Ribeauvillé
3 miles/5 km
If you've already started researching where to go in Alsace, you've probably heard of Ribeauvillé. It's a beautiful wine road village with lots of medieval buildings, restaurants, shops and wine. I think Ribeauvillé is a great place to visit, although I have no idea why it is more popular than other wine road villages that are just as beautiful. There are also three castles above Ribeauvillé that you can hike up to and back in three hours if you're interested...
Hunawihr
3 miles/5 km
If you find yourself in Riquewihr or that area of the Wine Road in Alsace and you want to get away from the crowds, head over to Hunawihr. It's right next door to Riquewihr and it's beautiful and quiet. You'll find great wine and scenery in a quiet and peaceful setting.
Kientzheim
3 miles/5 km
Kientzheim (not Kintzheim) is a beautiful little wine road village near Kaysersberg and it's also home to the Confrerie de Saint Etienne and their Alsatian Wine museum. If you want to learn more about the history of Alsatian wine and how it was produced, you might want to stop by.
Ammerschwihr
4 miles/6 km
You'll probably pass Ammerschwihr on your way from Turckehim to Kaysersberg and you will definitely see it! It's the one with the huge tower (the Schelmenturm)... If you stop by, you'll have a choice of over 40 wine makers to choose from as you wander through the village. And for those of you who love to golf...
Kaysersberg
5 miles/7 km
Kaysersberg is a just as beautiful medieval wine road village as Riquewihr with the added bonus of a ruined castle only a 15 minute hike away. The photo at the very top of this webpage was taken in Kaysersberg to give you an idea. So if you want to avoid the crowds in Riquewihr, Kaysersberg might be a good choice for your Alsace vacation. And it's the birthplace of Albert Schweitzer too.
Bergheim
6 miles/9 km
Bergheim is a quiet little village on the Alsatian Wine Road just past Ribeauvillé. One of the most amazing things about Bergheim is how it was managed to preserve almost ALL of its medieval city walls. You can walk around the village and see them for yourself before or after trying some of the local wine and food.
Looking for Hotels in Mittelwihr?

Le Mandelberg is a modern style 3 star hotel with large spacious rooms each with a balcony. You'll have scenic views of the vineyards from many rooms. An indoor pool is in the works. Sauna, tanning bed, and massage are on offer. Breakfast, Wifi, parking all available.
The Hotel le Mittelwihr is a cosy little three star hotel with nicely decorated and air conditioned rooms. Free parking and internet is available in your room. Breakfast is available. There is a very nice French restaurant next to the hotel.
Le Centre Mittelwihr Ethics Etapes is a very large and modern accommodation center specializing in groups of people although they will accept individuals and families as well. Their goal is to create a friendly and social atmosphere with many communal areas for meeting people. Breakfast, lunch and dinner are available. Handicap accessible, parking and internet available. Prices are very reasonable.