Daytrips from Eguisheim Hotels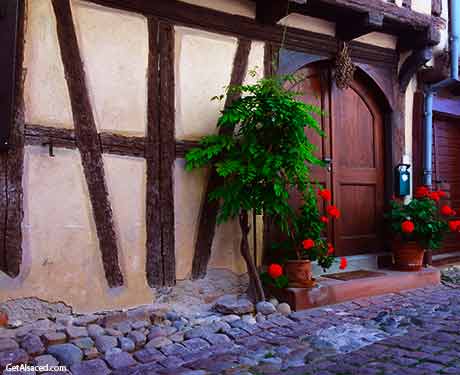 Unfortunately you'll absolutely need a car to stay in Eguisheim hotels...

Otherwise you'll have to walk or bike the approximate 2 miles or 3.5 km from the nearest train station in Herrlisheim près Colmar to your hotel in Eguisheim.
Maybe not for you if you have a lot of luggage...
But with a car or a bike if you're up for it, you'll be just a bit south of the touristy parts of the wine road in Alsace.
And you'll certainly have quite a selection of Eguisheim hotels to choose from!
And there are some very cute wine villages (and some great wine as well) on the southern half of the wine road that you won't likely hear about in guide books...
Perfect for those of you looking to get off the beaten path on the Alsatian wine road!
Distances given are the approximate distances from the center of Eguisheim.
Villages with a * have a train stop or train station.
Turckheim*
5 miles/8 km
Turckheim is a beautiful little village on the Alsace Wine Road with a train station! So you can drink as much as you can want... Turckheim has a particular tradition that it has continued (with only two stops) for hundreds years. The Nightwatchman makes his rounds (May 1st to Oct 31st) at 10pm every night.
Colmar*
6 miles/9 km
Colmar is a medium sized town right in the middle of Alsace. It's on many many people's list of "most beautiful towns in France". The wine business made a lot of people wealthy during the late medieval period so there are a lot of beautiful and unique buildings to look at in Colmar.
Rouffach*
7 miles/12 km
Rouffach is an adorable village on the wine road with a train station, so no problem if you taste a little too much wine here...and it's a lot less crowded than other famous villages, but still very pretty and interesting to visit. Take a walk in the vineyards behind the Chateau d'Isenbourg for a fantastic view!
Ammerschwihr
8 miles/13 km
You'll probably pass Ammerschwihr on your way from Turckehim to Kaysersberg and you will definitely see it! It's the one with the huge tower (the Schelmenturm)... If you stop by, you'll have a choice of over 40 wine makers to choose from as you wander through the village. And for those of you who love to golf...
Kientzheim
8 miles/13 km
Kientzheim (not Kintzheim) is a beautiful little wine road village near Kaysersberg and it's also home to the Confrerie de Saint Etienne and their Alsatian Wine museum. If you want to learn more about the history of Alsatian wine and how it was produced, you might want to stop by.
Kaysersberg
9 miles/15 km
Kaysersberg is a just as beautiful medieval wine road village as Riquewihr with the added bonus of a ruined castle only a 15 minute hike away. The photo at the very top of this webpage was taken in Kaysersberg to give you an idea. So if you want to avoid the crowds in Riquewihr, Kaysersberg might be a good choice for your Alsace vacation. And it's the birthplace of Albert Schweitzer too.
Munster*
11 miles/18 km
Munster is a small town or very large village in a valley in the Vosges mountains that you can get to by train! It's also the birthplace of Munster cheese. You can taste Munster cheese anywhere in Alsace, but if you want some fresh locally made cheese, you'll have to visit the Munster valley (and you can see how it's made too).
Looking for Eguisheim Hotels?
Here's a cute little hotel in a historic building in the center of the village with 3 different room sizes. Choose from small to family size. Internet and parking available. No elevator or air conditioning in this historic building but rooms available on the 1st floor. Free parking very close by. Reasonably priced, fresh breakfast buffet available.
This Eguisheim hotel is good if you are looking for an inexpensive hotel in the more touristy part of the wine road. The breakfast is also very low priced. Internet is available as well. Not for anyone who has particularly high expectations. Great for friendly, easy going travelers. Reasonably priced family rooms. Free parking nearby.
If you're looking for cheap Eguisheim hotels, this one might be worth checking into. Prices are very reasonable considering its location. Rooms are modern and roomy (by French standards). Restaurant (and breakfast of course) and parking available.
A modern style hotel with minimalist Scandinavian style rooms, this hotel is actually a few minutes walk from Eguisheim's center. Nice views of the vineyards and an indoor swimming pool. Not the most consistent in good customer service with English speaking clientele. Decent breakfast and restaurant. Parking available.
This little hotel set in the historic ramparts (city walls) of Eguisheim is small, quaint, old fashioned and very reasonably priced. You'll find hotel rooms and vacation rental apartments for a good price as well as a restaurant serving breakfast.
This hotel in Eguisheim has mostly minimalist style hotel rooms, some air conditioned, WiFi and private parking. Handicap access rooms and an elevator. Rare for a hotel in the historic center of town. Restaurant with outdoor courtyard and breakfast. Generally good customer service and some English speaking staff.
Here's a cute little hotel in charming 17th century buildings in the historic center of Eguisheim. Its reasonably priced rooms are modern, simple and non smoking. WiFi is available. Parking is very nearby. Restaurant serving plenty of Alsatian specialties.