Day Trips from Haguenau Hotels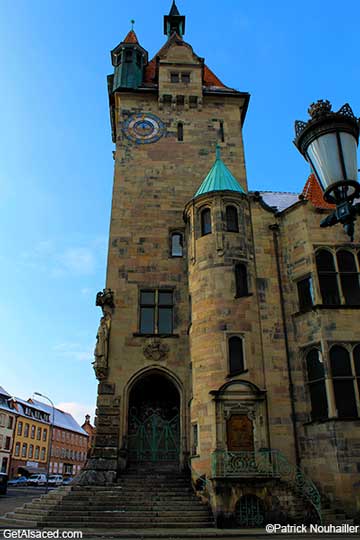 Haguenau is only 20 minutes outside of Strasbourg and less than an hour from Colmar. It has a train station so it's easy to reach if you're travelling by train.

All distances given are the approximate distance from the center of Haguenau.
Villages with a * have a train stop or train station.
Betschdorf and Soufflenheim
(1) 9 miles/15 km (2) 8 miles/13 km
If you're interested in seeing more of that adorable Alsatian pottery, you need to make a trip to Betschdorf (1) and Soufflenheim (2). First off, you can visit the artists themselves and possibly find something unique and original. Not to mention that these villages have been producing pottery since Roman times.
The Maginot Line
(1) 14 miles/22 km (2) 16 miles/26 km
Fort Schoenenbourg (1) and Four à Chaux (2) are two forts on the Maginot Line in Alsace that are open to the public. There are a lot of bunkers and other buildings that were a part of the Maginot Line on the northern Alsace border as well...
Hunspach* and Seebach
(1) 15 miles/24 km (2) 16 miles/25 km
Hunspach (1) and Seebach (2) are two very beautiful Alsatian villages known for being very Alsatian. Seebach has a summer festival that recreates a traditional Alsatian wedding. It attracts tens of thousands of people every year. Both villages are very proud of their Alsatian heritage and display it prominently.
Niederbronn les Bains*
15 miles/24 km
Niederbronn les Bains as you might guess from the name is the source of a natural mineral spring. People have been coming here since Roman times. If you've never been to a French natural spring, here's your chance to relax a little and experience something new and different...
Fleckenstein
19 miles/30 km
Fleckenstein is an unusual castle built in the 12th century. It's so unusual mainly because quite a lot of the castle was carved out of rock...including staircases! It's very kid friendly with lots to see and do.
Northern Alsace Wine Road*
19 miles/31 km
This is a lesser known section of the Alsace Wine Road near Wissembourg. You'll need a car to visit the four major villages of this section of the wine road: Rott, Steinseltz, Reidseltz*, Oberhoffen and Cleebourg. If you're looking for "off the beaten path" Alsace, this is it...
Lichtenberg*
20 miles/32 km
Lichtenberg is the name of a small village and its 13th century castle. Unlike most of the castles in Alsace, it was not destroyed by Louis XIV and the 30 Years War, but it was damaged by the Franco Prussian War in 1870. It has been renovated and is available for visiting most of the year.
Looking for Haguenau Hotels?

The Hotel Campanile Haguenau is a great choice if you're looking for discount Haguenau hotels just off the highway. This hotel is a little more than 1 mile or 2 km from the historic center of Haguenau. Campanile hotels will give you a basic clean room in a safe (and usually convenient) location near a major highway. Rooms are small, but air conditioned. Parking, breakfast and a restaurant available.
The Europe Hotel is about 1 mile or 2 km from the historic center of Haguenau. Like most hotels in France the rooms are a bit small and could use some redecorating. Breakfast is very good and there is an outdoor swimming pool.
Ibis Strasbourg Nord Haguenau Hotel
The Ibis hotel in Haguenau is a good choice if you're interested in discount Haguenau hotels right next to the highway. It's about 2 miles or 3 km from the historic center of Haguenau. Rooms are small, but air conditioned. Breakfast and parking is available.
The Hotel les Pins is a charming little family owned hotel and restaurant in a quiet and peaceful area about 2.5 miles or 4 km from Haguenau. Restaurant specializing in both French and Alsatian specialties with a very good wine list. Rooms are individually decorated. Very good customer service.
Hotel Champs d'Alsace Centre Haguenau
There are two Champs d'Alsace Haguenau hotels. This one is just across the street from the train station near the historic district of Haguenau. Rooms are individually decorated. Breakfast and parking available.
Hotel Champs d'Alsace Aerodrome Haguenau
As you would expect the Hotel Champ d'Alsace Aerodrome is located near the Haguenau airport. It's about 2.5 miles or 4 km from the city center of Haguenau. Rooms are air conditioned and individually decorated. Breakfast and parking are available as well as a restaurant serving Alsatian specialties.