Daytrips from Wissembourg France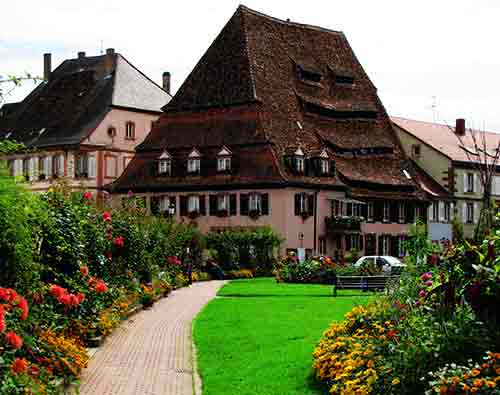 Northern Alsace is a less touristy area even though it's only about an hour and a half from the Colmar area (depending on exactly where you are going).
Distances given are the approximate distances from the center of Wissembourg France.
Villages with a * have a train stop or train station.
Northern Alsace Wine Road*
5 miles/7 km
This is a lesser known section of the Alsace Wine Road near Wissembourg. You'll need a car to visit the four major villages of this section of the wine road: Rott, Steinseltz, Reidseltz*, Oberhoffen and Cleebourg. If you're looking for "off the beaten path" Alsace, this is it...
Hunspach* and Seebach
(1) 7 miles/11 km (2) 6 miles/9 km
Hunspach (1) and Seebach (2) are two very beautiful Alsatian villages known for being very Alsatian. Seebach has a summer festival that recreates a traditional Alsatian wedding. It attracts tens of thousands of people every year. Both villages are very proud of their Alsatian heritage and display it prominently.
The Maginot Line
(1) 7 miles/11 km (2) 9 miles/15 km
Fort Schoenenbourg (1) and Four à Chaux (2) are two forts on the Maginot Line in Alsace that are open to the public. There are a lot of bunkers and other buildings that were a part of the Maginot Line on the northern Alsace border as well...
Fleckenstein
11 miles/18 km
Fleckenstein is an unusual castle built in the 12th century. It's so unusual mainly because quite a lot of the castle was carved out of rock...including staircases! It's very kid friendly with lots to see and do.
Betschdorf and Soufflenheim
(1) 14 miles/23 km (2) 19 miles/30 km
If you're interested in seeing more of that adorable Alsatian pottery, you need to make a trip to Betschdorf (1) and Soufflenheim (2). First off, you can visit the artists themselves and possibly find something unique and original. Not to mention that these villages have been producing pottery since Roman times.
Haguenau*
19 miles/31 km
Haguenau was an important village in the high middle ages (1100s-1300s). The Holy Roman Emperor at the time Frederick Barbarossa built city walls, a castle and many other buildings. Like most of Alsace, many buildings were destroyed by Louis XIV and the 30 Years War but like most of Alsace there is still a lot to see.
Niederbronn les Bains*
20 miles/32 km
Niederbronn les Bains as you might guess from the name is the source of a natural mineral spring. People have been coming here since Roman times. If you've never been to a French natural spring, here's your chance to relax a little and experience something new and different...
Looking for Hotels in Wissembourg France?

The Citotel d'Alsace is a nice little two star hotel at a very reasonable price only 200 meters from the town train station. Clean rooms, breakfast buffet at a reasonable price...nothing bad to say about it!
The Hotel Moulin de la Walk is a an old mill (moulin in French) near the historic city center of Wissembourg, so you can easily take a leisurely walk there. They have an excellent restaurant and charming individually decorated rooms.
The Hotel de la Couronne is a very small hotel or even a bed and breakfast with only 10 rooms in an 18th century building in the historic city center of Wissembourg. Each room is decorated in a style that would suit an 18th century hotel. They have a very nice restaurant serving Alsatian specialties.
The Hotel Weiss is a small family owned hotel just a few steps from the center of Wissembourg. This hotel is also conveniently located near the train station. Each room is individually decorated. Parking and breakfast available.