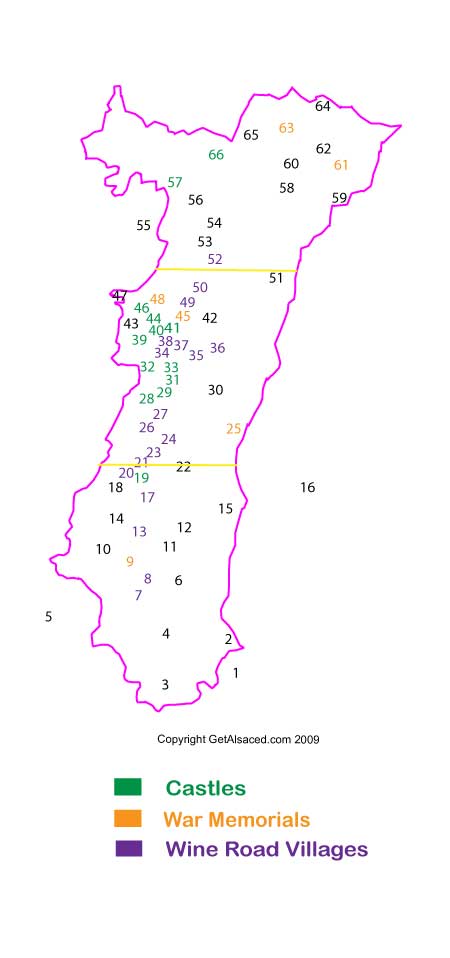 If you're interested, you'll find a map of the Alsace area showing the major highways here or maybe you'd prefer a paper map like the Michelin Map of Alsace Lorraine to help you find your way.

And if you are wondering what all these places on my Alsace map are, check out the list below!
Want to see the Alsace that most people never see?
Alsace Map: Places to Go in Alsace

Alsace Map: North of Strasbourg
66 Lichtenberg is part of the North Vosges Nature park and its 35 castle ruins. The Lichtenberg castle is in decent shape and was originally built in the 12th century.
65 Niederbronn-les-Bains has been a spa town since Roman times. The natural spring runs though Niederbronn les Bains where you can taste it at its source or visit one its spas. You can also make short hikes in the Vosges to a number of different medieval castles.
64 Wissembourg is found at the very top of this Alsace map and was founded in the 6th century by the Merovingian King Dagobert. Wissembourg is a large medieval village with over 70 houses dating from before 1700 (many from the 14th and 15th centuries). Just south of Wissembourg you'll find the Northern Wine Road in Alsace.
61 and 63 Four à Chaux and Fort Schoenenberg are forts on the Maginot Line. They are basically underground military camps with everything a soldier could need. And they are in great shape because the Germans were never able to cross this line. Definitely two must sees on this Alsace Map for any war history buffs!
62 Hunspach is a very well cared for and preserved Alsatian village with many typical Alsatian homes and barns. The village is very proud of their heritage and dress in traditional costumes for special occasions.
59 and 60 Betschdorf and Soufflenheim are famous for their pottery. And they've been doing it since the 12th century! So you can visit all the ceramic artists in their workshops or go to the Pottery Museum.
58 Haguenau was a favorite village of Frederick Barbarossa (one of the Holy Roman Emperors). City walls, gates, and other buildings have survived. There's also an interesting Alsatian museum in Haguenau.
57 La Petite Pierre is a tiny village in the northern Vosges mountains so it's quite the scenic trip! In La Petite Pierre you'll find a 12th century castle in great shape, but the most interesting thing is the houses carved right out of the cliff sort of like modern caves.
56 Neuwiller-les-Saverne is the home of the St Peter and Paul church that was originally built between the 11th and 13th centuries. The monastery dedicated to st Adelphus was originally founded in the 8th century.
55 St Louis-Arzviller is technically not in Alsace, but it's just across the border in Lorraine and it's a lot of fun! It's a boat escalator for lack of a better word. There's a 145+ foot difference in the Marne-Rhine canal at this point. You can even take a tour on a boat for yourself!
54 Saverne is full of things to do. The Rohan Palace has the Archaeology and History museums. There is a 14th century monastery and a 12th century castle in Saverne too.
53 Marmoutier is an abbey that was originally built in the 6th century. It has been restored and is in great shape. It's considered one of the best examples of Romanesque architecture in Alsace.
52 Marlenheim is considered to be either the beginning or the end of the Wine Road depending on which direction you are going. Marlenheim is known for its "Klevner" wine.
51 Strasbourg is the capital of Alsace and its largest city. The cathedral is gorgeous, but so is the Tanners' District La Petite France. If you think you have what it takes, you can climb the stairs to the top of the cathedral (over 300 steps). Strasbourg is one of the most well known stops on this Alsace map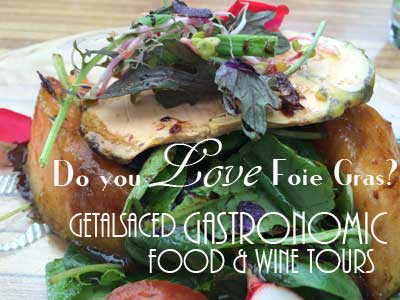 Experience the best wine, Alsatian cuisine, French pastries and more
Alsace Map: Strasbourg to Colmar
50 Molsheim is a beautiful village on the Wine Road with its city walls and city gates still intact. Molsheim was also the home of the Bugatti factory.
49 Rosheim is a village on the Wine Road that still has its city walls and gates. Rosheim a 12th century home called the Pagan House which is considered to be the oldest in all Alsace.
48 Schirmeck was the location of the Nazi "re-education" camp in Alsace. Now it is a museum in Schirmeck dedicated to the events that occurred between 1870 and 1945 when Alsatians changed nationalities 4 times. More than a museum, the different moments are recreated in the different rooms to give you the feeling that you are living through it too.
47 Le Donon is a site in the Vosges mountains. It was a place of worship for the Celts and then later the Romans. Temples have been found dedicated to Cernunnos and Mercury. While you are hiking around, you may also find things from World War One including a cemetery.
46 Guirbaden is a very large ruined castle in the Vosges mountains that you can visit. It is relatively safe to visit a ruined castle so long as you don't climb on anything or attempt to move anything. This one dates back to the around the 10th and 11th centuries.
45 Struthof was the only concentration camp in Alsace or France although Alsace was part of Germany at the time. Now it is a musuem. You can check out the crematorium, ash pit, gas chamber, prison, and other various buildings.
44 The Ottrott castles are Rathsamhausen and Lutzelbourg. They are both ruined, and within walking distance of one another. And just a short drive from the village of Ottrott.
43 Mont St. Odile is the convent founded by the patron saint of Alsace, St Odile in the 8th century in the Vosges mountains. It's a beautiful place for a hike. You can find the remains of a Celtic fort, the Pagan Wall, there as well. This stop on the Alsace map also has a hotel in the convent for those interested in a quiet, rustic experience.
42 Obernai is the birthplace of the patron saint of Alsace, St Odile. Obernai has existed since at least 778 A.D. Its city walls and gates have survived a lot of conflict with 30 towers still standing.
41 Landsberg is yet another ruined castle in the Vosges that you can visit although it is smaller than Guirbaden. It was originally built in the 1100s and destroyed during the Thirty Years War by the Swedes.
40 Haut Andlau is one of approximately 65 castles in Alsace and is near the village of Barr built in the 1200s. It's still in relatively good shape for a ruined castle and is still owned by the Andlau family which is very unusual.
39 Spesbourg is a ruined castle built in the 13th century. Interestingly enough, this castle wasn't destroyed by a war. The townspeople got fed up with the nobles and torched it. Very unusual...
38 Andlau is one of the 100+ charming wine growing villages on the Wine Road in Alsace. St Richarde, the wife of Carolingian kind Charles the Fat, founded an abbey in Andlau in the 9th century. And the 12th century St Peter and Paul Church is where you will find her shrine.
37 Barr is as charming an Alsatian village on the wine road as many of the more famous ones, but with less tourists which can make Barr all the more enjoyable to visit if you're looking for a little peace and quiet.
36 Epfig is known to have existed since 762 AD and is a charming village on the Wine Road. One of France's larger chocolate manufacturers is based in Epfig too (chocolate and wine anybody?)
35 Scherwiller was the location of the very unpleasant end of the Peasants Revolt in 1529 where they were basically slaughtered. You'll also find two castles, the Ortenbourg and the Ramstein, in Scherwiller.
34 Dambach-la-Ville still has its medieval walls and gates. One of the churches in Dambach la Ville, St Sebastien, is interesting. Look for the unusual sconces...St Sebastien protected people against the Plague.
33 Ortenbourg castle was built in the 11th and 12th centuries. From there, you can see a smaller castle, the Ramstein. It survived quite a few serious attacks before the Swedes destroyed it in the Thirty Years War.
32 Frankenbourg castle was most likely built in the 12th century although there is a story about it being built by Clovis, the first King of the Franks, in the 5th century. Just a bit below the castle is a wall that is said to date back to the Celtic iron age.
31 Ramstein castle is the smaller castle built in the 13th century not too far from the Ortenbourg castle. It was built to better attack the Ortenbourg which was a pretty tough castle.
30 Selestat is a small and charming city that is supposedly the birthplace of the Christmas tree. You'll find a Humanist library with books from as far back as the 600s in Selestat.
29 Kintzheim castle isn't just a ruined 12th century castle in Alsace. It's also the location of the "Voleries des Aigles" which is a Birds of Prey show. And if that wasn't enough, the "Montagne des Singes" (or Monkey Mountain) is a short drive away. Two must see stops on this Alsace map if you're traveling with kids!
28 Haut Koenigsbourg is one of the most famous castles of its period in France, mostly because it has been fully restored. You can tour this twelfth century castle year-round.
27 Ribeauvillé is one of the must see Wine Road villages on this Alsace map. It is also the home of the beautiful linens maker, Beauville. And if that weren't enough, the well known mineral water company, Carola, is in Ribeauvillé.
26 Riquewihr is also one of the must see villages on this Alsace map. Riquewihr has 13th century walls and city gates as well as a torture chamber available for touring. And on top of it all, there are 4 museums in this little village, but in reality, the entire village is a museum itself.
25 Marckolsheim is a location of one of the smaller Maginot line forts in Alsace. The village of Marckolsheim was completely destroyed by the Germans. They have created a wonderful museum here available for touring from March to November on the weekends and from June to September during the week as well.
24 Kientzheim is a charming Wine Road village like the other 100+ others that also happens to have a Wines of Alsace museum. The Confrérie Saint Etienne is also based in Kientzheim and does wine education programs. If you want to learn more about wine in Alsace, this stop on the Alsace map is for you!
23 Kaysersberg is one of the must-see charming Wine Road villages on this Alsace map...with a castle ruin that you can hike up to. Kaysersberg is also famous as the birthplace of Albert Schweitzer and his birthplace has been made into a museum that you can tour.
22 Colmar is a small city with beautiful, ornate homes mostly built in the Renaissance period. It's late medieval city center is in fantastic shape. It's considered to be one of the most beautiful towns in France. Definitely a must-see on this Alsace map.
21 Turckheim is a village on the Alsatian Wine Road near Colmar. Turckheim is one of the few that still has its city walls and gates. It is famous for the nightwatchman who still patrols the streets of Turckheim every night at 10pm (May through October) singing traditional Alsatian songs. It's also one of the few wine road villages with a train station so it's a very popular stop on this Alsace map for those without cars.
Or maybe you would prefer a tour of the best desserts in Alsace?
Alsace Map: South of Colmar


20 Eguisheim is a tiny, unusually shaped village. The village formed around a castle adding one ring of houses after another as it grew. You'll be going in circles literally! No need for a museum here. Eguisheim is its own museum. It's also the home of the only Alsatian pope, Leon IX. And it's one of my favorite stops on this Alsace map!
19 Hohlandsbourg is a 12th century castle once owned by the Hapsburgs and is not far from Eguisheim. Like many castles in Alsace, it was destroyed by the Swedes during the Thirty Years War, but it's been renovated, so you can tour it from April to October.
18 Munster is a small city famous for its Munster cheese (a very strongly flavored cheese) and the only Alsatian cheese. They've been making it in the same way since the 10th century in the surrounding countryside in Munster.
17 Rouffach is a charming village on the Wine Road near Colmar. You can find remains from the Celts, Romans, Franks here. Rouffach has been attacked, burned, and bombed from the 12th century to the 20th, but still a lot has survived. A great day trip.
16 Freiburg is a charming city just across the border in Germany. You will find a beautifully well preserved medieval city center and all sorts of museums. It's a very well known stop on this Alsace map.
15 Neuf-Brisach has an interesting history. It was designed and built by Louis XIV's military engineer, Vauban, in the early 1700s. So the entire town is surrounded by fortifications.
14 Murbach was a very powerful monastery in France. It founded in 728 AD and amazingly some parts of it are still standing after all the wars that have past through Alsace.
13 Guebwiller is the place to go if you like old churches. Guebwiller doesn't just have a Romanesque one, it also has Gothic and Neoclassical churches. It was owned by the Murbach abbey until the French Revolution in 1789. And it's a charming wine producing village as well.
12 EcoMusée is an outdoor Alsatian village museum with authentic Alsatian buildings that have been moved and restored. You'll find blacksmiths, farmers, musicians, farm animals and all sorts of people demonstrating how life was in the villages of Alsace. One of our kids' favorite stops on this Alsace map. The Clair de Mine turn of the century mining museum is within walking distance.
11 Bioscope is a very unique and fun educational kids amusement park. You'll never have this much fun learning about nature, science, and the environment anywhere else. And even if you don't understand French or German, you'll still have a lot of fun!
10 Lac de Kruth is the largest man made lake in Alsace. It's a beautiful spot up in the Vosges mountains to hike, walk, swim, go diving, or even rent a pedal boat.
9 Hartmannswillerkopf is a one of a few different World War One memorials in Alsace with a military cemetery. What's most interesting about Hartmannswillerkopf though is further past the memorial where you can hike through the maze of well preserved World War One trenches. It's one of my favorite stops on this Alsace map.
8 Cernay is right next to Thann and is also an Alsatian Wine Road village. It's considered to be where Julius Caesar defeated Ariovistus and his Germanic tribes in 58 BC. It's not far from Hartmannswillerkopf and you'll find World War One cemeteries for both French and German soldiers.
7 Thann is the first or last stop on the Alsatian Wine Road depending on which direction you are going in southern Alsace. You'll find an unusually large and ornate Gothic church as well as the ruins of the Engelbourg castle that is only a twenty minute walk from Thann.
6 Mulhouse is the second largest city in Alsace. It's specialty is its museums. It has a world-class car museum, train museum, and electricity museum among others. Mulhouse was famous for its textiles and you can find its museum in the old City Hall. And if you want to do some shopping, you'll find plenty to look at in the city center.
5 Belfort is not actually in Alsace anymore, but it used to be. Throughout history it was fought over because of its location and all of these fortifications, ramparts, the Citadel, and more are still there for you to tour.
4 Altkirch is a smaller town in the Sundgau region of Alsace. It's built up a hill. The view from the top next to the old church is great. One of the local specialties in the Sundgau is fried carp.
3 Ferrette is another small village in the Sundgau in Alsace where the counts of Ferrette built their castle in the 12th century. There is a pathway that leads to the castle near the St Bernard church in the village.
2 Saint-Louis is the last stop before you head into Switzerland. And it's also the closest train station to the Basel/Mulhouse airport. There is a bus service that runs from this train station to the Basel/Mulhouse Euro Airport.
1 Basel is one of the larger cities in Switzerland. In Basel, you can check out its 10th century church, the Munsterkirche, or just wander through the unbelievably well preserved medieval city center (very unusual for a city of this size). And if that's not enough, there's always the still-standing enormous late medieval city gate, the Spalentor.