The Ecomusee in Alsace

An Outdoor History Museum


The Ecomusee in Alsace is a very big outdoor museum...
They have recreated an Alsatian village by rescuing old Alsatian homes and workshops in bad shape and...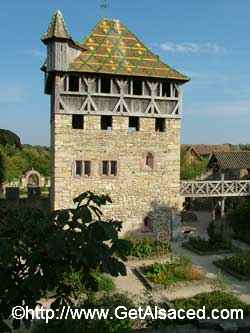 Moving them and repairing them...
It's very big...you could easily spend an entire day here just walking around and looking at the houses...
You'll find farmers, potters, blacksmiths and even Alsatian musicians and singers occasionally in different parts of the museum demonstrating their skills...
And fortunately they have 2 restaurants and a bakery if you get hungry or just need a break.
What Can You Do at
the Ecomusee in Alsace?

For the history lovers...
The Ecomusee is probably larger than the average village in the late middle ages...
There are homes and buildings from as late as the 15th century up to the 18th century...
So you'll get to see how people in Alsace lived in different periods of time...most of the houses are furnished...
To give you an idea of what you'll find at Eco musee...
You'll find...
a potter's house and workshop...
a wine maker's house and wine cellar...
farms with horses, cows, pigs, goats...
and the other 70 or so homes and workshops at the Ecomusee...
For the kids...
Our kids really liked walking around the village in and out of the different Alsatian houses...
watching the potter make pots and
watching the piglets running around and
riding on the farmer's cart through the village
riding on the old fashioned fishing boat

How Do I Get to
the Ecomusee in Alsace?

Because the Eco musee is an outdoor history museum, it's not open year round...
Like most of the other outdoor attractions in Alsace, it's open from April to the beginning of November...
The website is in French but...
You can see when they are open here...
Just click on "preparer votre visite" to see when they are open...
The GPS coordinates are...
47°51'38.52'' N 7°17'48.95'' E Altitude 222 m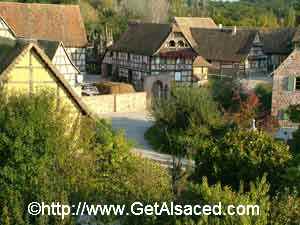 Coming from Southern Alsace
If you are on highway A36 coming from Basel, Belfort or Mulhouse...
Take exit #18 towards Guebwiller...
Follow RD 430 until you get to exit #5 going towards the Eco musee...
Coming from Northern Alsace
If you are coming from Strasbourg or Colmar on highway A35...
First you need to be going towards Mulhouse...
Take the Guebwiller exit and...
Get on RN 83 (route nationale) then...
Get on RD 430 (route departementale) going towards Mulhouse...
And take exit #5 going to the Ecomusee...