Experiencing a French
Christmas in Alsace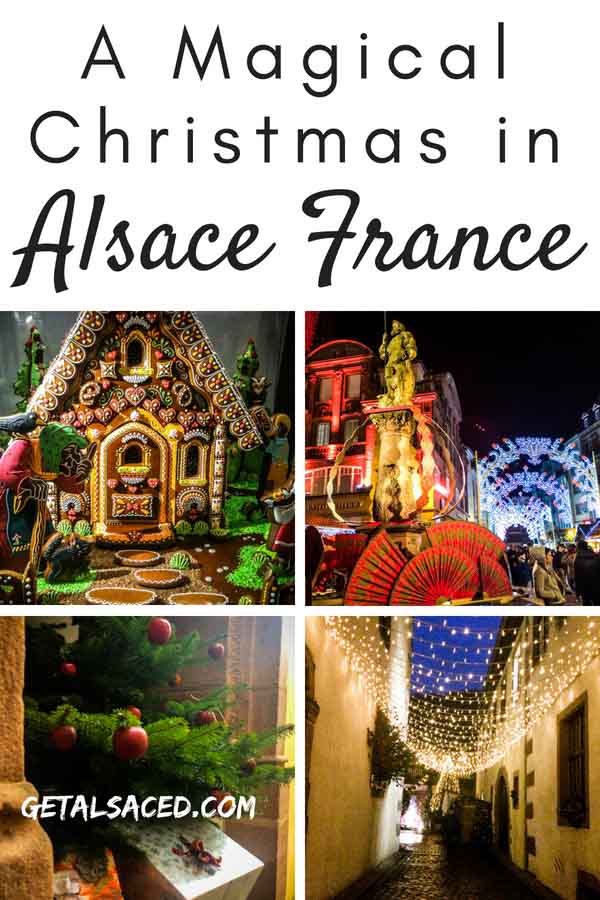 Have you ever experienced a French Christmas?

Alsace is in France so there are many French traditions at Christmas time...but Alsace is particularly special at Xmas time!

People come from far away to experience Alsace's special version of Christmas...

I personally think they do it better than anywhere else...including my home country! So you might want to consider a seasonal trip to Alsace during this very festive time of year.


Winter Weather in Alsace
Alsace isn't known for being particularly cold but it could drop into the freezing temperatures during the day at Christmas time.

And it does occasionally snow around this time of year but rarely more than a few inches or centimeters.

So you'll want to pack sweaters, coats, hats, scarfs and gloves...and depending on how cold natured you are...ski underwear and boots!

Most of the fun things to do at Xmas are outside so wool clothing or multiple layers are a good idea...

But there's plenty of warm things to eat and drink this time of year to keep you warm and toasty : ) and even if it's not too cold...
It's still a pleasure to try the many different seasonal Christmas foods!

Christmas Traditions in Alsace
I'm a bit at a loss for words trying to describe what it is exactly that makes Alsace so wonderful at Christmas time, but I'll do my best!

Probably the best way to share an Alsace Christmas with you is to talk about the different traditions that you'll see this time of year...

Of course in France, food plays a very important part in all celebrations!

So let's start there!



What Sorts of Foods and Drinks Will You Find in Alsace at Christmas Time?
One of the wonderful things about an Alsace Christmas is the seasonal food and drinks! In the shops...at the Christmas markets...in pastry shops...in bakeries...and even at the butcher's shop!

You will have endless opportunities to try some very wonderful foods at this time of year...
Other Christmas Treat Discoveries in Alsace...
Click here to find out more about the different Christmas foods in Alsace!


Goose Liver Pate or Foie Gras d'Oie

I know that goose liver pate (commonly known as foie gras d'oie in French) is a controversial subject in some countries... But in France, it is a tradition …