It can take your breath away.

Until you get to the little village and walk down the tiny cobble stoned medieval streets.
It's as if nothing has changed since the 1400s almost.
Most of the wine makers have been making wine in their family owned wineries for hundreds of years.
And when you're not tasting wine or having lunch, you can wander through the village's winding little streets or maybe even around the ramparts of the medieval city walls (which quite a few villages still have).
But you may be wondering about a few things like how to go about visiting these villages and their tasting rooms.
Like which Alsace wineries should I visit?
Or what is the etiquette for tasting wine in Alsace?
Maybe you just want to know how wine is made in Alsace. You might want to know all about the history of wine in Alsace. You know, like how it got started.
And what it was like hundreds of years ago here in Alsace.

How exactly did they store wine before bottles and corks existed anyway?
Or maybe you're only interested in how you can get to these incredible villages without getting lost.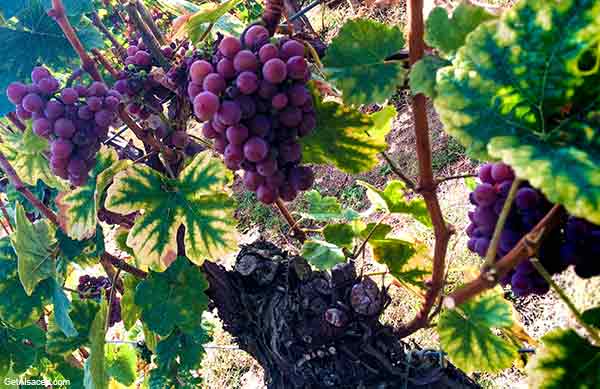 Those are all very good questions and I would be happy to tell you all about it and much more on one of my Backroads of the Wine Roads tours : )

Or maybe you just want wine, food and more wine and food on one of my Wine and Food tours here in the French wine region of Alsace!

Either way, you will learn a lot about wine, visit small family owned wineries and taste a lot of Alsace wine*
*Warning: drinking Alsace wine may spoil you for all other white wines ; )

A Few Facts about Wine in Alsace

The size of the French wine region of Alsace is about 15,600 hectares which is approximately 39,000 acres.
So it's one of the smallest wine growing regions in France.
The Alsatian Wine Road is made up of 119 villages and is approximately 170 km or about 105 miles of winding roads.
Alsace produces over 160 million bottles of wine a year and is responsible for 30% of the total production of still white AOC wine in France.
Unfortunately they only export about 26% of it out of France.
And if you were wondering.
Grape production accounts for 40% of all agricultural production in Alsace.
So there are a lot of vineyards squeezed into a small area of Alsace called the Wine Road.
But there are rules about wine growing and wine making in Alsace...
The wine growers and wine makers of Alsace can't do whatever they want wherever they want.
There are different types of wine in Alsace and the Alsace wine region is quite unique when you compare it with the other wine regions in France.
There are thirteen grape varieties that we can make wine with here in Alsace and only one of them is for red or rosé wine.
Alsace is also famous for its dessert wines also known as "Vendange Tardive" or Late Harvest wines.
Or the even sweeter "Selection de Grains Noble" dessert wines or the Noble Rot wines.
More Information
about Wine in Alsace
The Different Types of Wine in Alsace and Terroir
The Different Types of White Wine in Alsace
A Short History of French Wine and the French Wine Laws
Alsace Winery Reviews and Recommendations