Let's Talk about Alsace Wine and Food
Alsace Food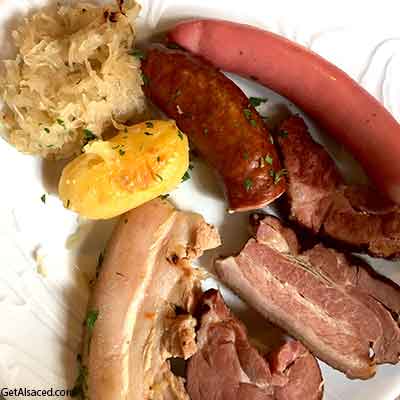 When I say Alsace food, I'm talking about traditional cuisine from this region, so nothing you usually find on  a French restaurant menu.
We do have lots of French food here in Alsace too, and both are great.
But you won't find the best Alsatian food in other parts of France, so this is your chance to check out our cuisine!
You'll find tons of info about Alsatian food on this site if you stick around and have a look.
We have a very large variety of food for you to try here in Alsace.
Something for the:
Foodies
Super picky eaters
Adventurous food eaters
Descendants of Alsatians looking for connection with the real Alsace
Cheese lovers
Desserts, pastry and candy lovers
Chocolate lovers
French food lovers and more!
Just tell me what you're looking for and I'll know where to go for your Alsace wine and food tour.
And I'm not really talking about the food in the touristy areas of Alsace either.
Some of it is Alsatian of course, but I'm more interested in showing you some really great food.
Not just okay stuff.
I know...I'm being picky, but I want the best for you.
Alsace Wine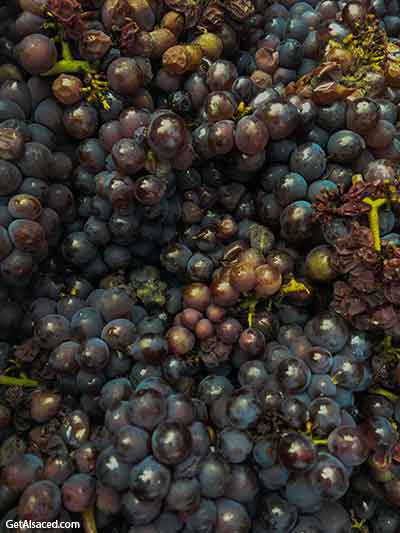 Wine tasting.
Two simple words, but so much to consider when visiting Alsace!
Chances are you think you  know what a wine tasting is, because you've done at least one, right?
Maybe these 2 words even make you a little nervous? 
Been there and done that too.
Hey, everyone starts somewhere, right?
And I'm here to speed up that learning curve whether you are just starting to learn about wine or you're already pretty knowledgeable.  And do you want to know a secret...Alsace is a region where it's hard to know everything. Really. So you're not alone if you don't know much about Alsace wine.  
There are many different kinds of wine experiences here in this French wine region.
And don't be fooled by the photo on the right! 
Alsace is one of France's finest white wine regions. Just wait til you see what we can do with white wine ; )
The Quick In and Out Wine Tasting 
Walk up to the counter, look at a list, choose a few wines.
Get a brief explanation, taste, buy something maybe and then you're off.
Didn't really learn much and it's more like a really quick stop in a pub or bar.
Maybe you get a little more info here and there.
This is typical in touristy areas.
In these cases, my job is to guide you through the day choosing better wine makers and giving you the information you need and want about the wines that you taste throughout the day, so you can just have fun on your private Alsace wine and food tour.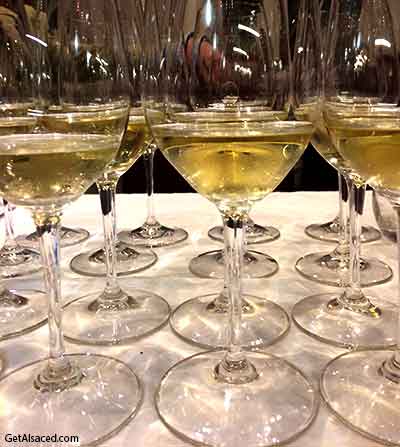 OR
The  Sit Down and Level Up Your Wine Game Tasting
A sit down visit where you get a much more informative story about Alsace wine, the wines you're tasting, the winery, and much more.
Usually we're tasting some seriously good stuff.
Not the basic bottles at all...unless you want to do that.
And while we could describe how the wine smells or tastes, I have way too much other info to give you first. Remember, I'm here to speed up your learning curve. You're going to finish the day with way more confidence and experience than you started.
Things you can't figure out on your own that are hard to find written anywhere.
I've been building this mountain of knowledge up here in Alsace for 15+ years!
Here's the dangerous part...
These are wines that are really hard to find back home and you're going to probably fall in love with some of them.
So make sure to plan ahead for space in your suitcase ; )
What Sort of Alsace Wine and Food Tour Do You Want?


Simple, quick and easy wine tastings or let's sit down and get you more comfortable and confident with Alsace wines, learn about these grapes, how different parts of the vineyard taste different and much more.
W

ould you like to deepen your knowledge about the world of wine? Experience "terroir" through your taste buds, meet some new grapes, fall in love with some outstanding white wines?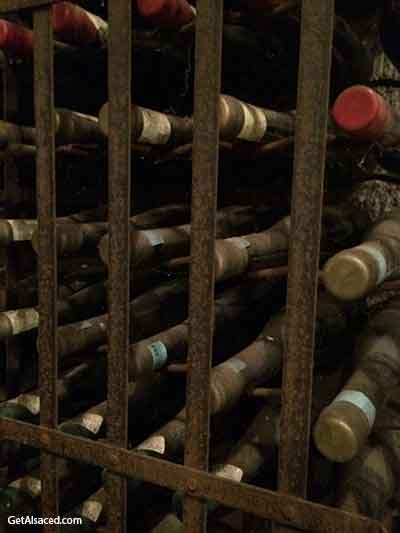 Introduce yourself to a new wine region: The wine region of Alsace is still a very undervalued region where you can have outstanding wines for 15 euros to 60 euros. They are easily worth double the selling price and age beautifully for 15-20+ years.
Enjoy the most talented wine makers' bottles here in Alsace. Small family owned producers that are not easy to find outside of Alsace. And their best bottles rarely make it outside of France.
Are you in search of memorable meals and the most talented chefs? In Alsace you can have exquisite meals for 20 euros to 40 euros, literally half the price of a decent restaurant in Paris.
Authentic Alsatian restaurants full of locals. Experience real Alsatian cuisine made from old-fashioned family recipes. No tourists in sight, except you on your private Alsace wine and food tour.
Other Alsace Tours We Could Do

Sommelier and Wine Collector Tours
Intrigued? Here's the Next Step

I'll need to know a few things like: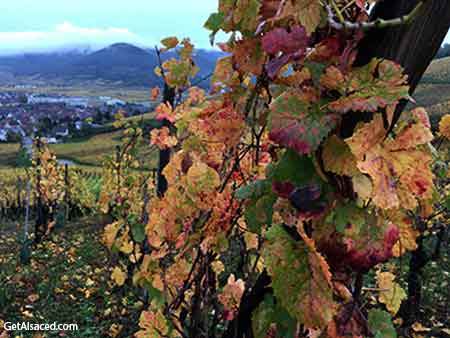 When are you coming?
How many people are coming with you?
What white wines do you currently love drinking?
Do you already love some Alsace or other European wines?
What foods do you absolutely LOVE or detest?

Where are you thinking of staying or have already reserved?
I can plan one or multiple day wine and food tours for you.
Starting at
350€ for 2 people
400€ for 4 people
450€ for 6+
The cost will vary depending on
where we are going and what we are doing 
Just send me an email and we can get started planning your very own private Alsace wine and food tour!