Alsace Wine and Food Tours
It's my job to make it very difficult for you to answer this question ; )
Alsace wine and food is literally a personal obsession of mine ; )
And so Alsace wine and food tours are something that I really love to do!
It's probably why I currently have over 700 bottles of exquisite white wines in the not very beautiful but very secure cellar!
And there's nothing I LOVE more than discovering new foods, new producers, new restaurants, except of course when they aren't so great haha
Oh we really shouldn't forget the desserts!
Because after the incredible meal you will have on your Alsace wine and food tour, you may eventually want something sweet.
And in this region there are some masters of food and wine. Alsace is known for its cuisine and its restaurants, both French and Alsatian.
But what about the wine?
The wine in Alsace is a wine lover's dream with its complexity and variety of flavors. There is a wine for every person and every meal in Alsace.
No matter your preferences, sweet, dry, floral, fruity and more. You will find a wine to enhance whatever you are planning to eat.
But with over 900 wine makers, there are quite a few to choose from.
And let's face it, not every wine maker in Alsace has the same level of talent or desire to produce outstanding wines. 
It's a sad fact, but it's true unfortunately.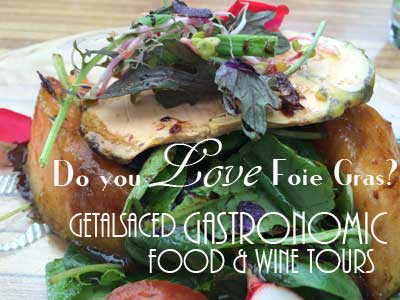 Not all foie gras is equal in Alsace. Want to try some of the best Alsace has to offer?
If you are looking for a special one of a kind wine tasting experience, I will happily guide you through tastings that are quite different than anything you may have ever experienced before.
Wine is not a simple subject, but I can make it  very easy to understand and enjoy, regardless of your level of experience.
And I can choose wineries based on your taste preferences and budget.
Because you will fall in love with some wines most likely...that is...if you truly are a wine lover ; )
And if you happen to fall in love with some of these hard to find wines, I can also have an importer send them to you back home (US, parts of Canada, Australia, New Zealand, Hong Kong, Singapore and Japan) as well as most anywhere in Europe.
But what about the food?
We'll visit restaurants and shops that have mastered something special and unique, places you would walk right past otherwise, never knowing what you were missing.

A blend of food, wine, vineyards, scenery and more!
Of course like all my tours, it will be personalized to your preferences, so the only question I have is "What do you love to eat and drink?" ; )

What Sort of Alsace Wine and Food Tour Do You Want?

W

ould you like to deepen your knowledge about the world of wine? Experience "terroir" through your taste buds, meet some new grapes, fall in love with some outstanding white wines?
Introduce yourself to a new wine region: The wine region of Alsace is still a very undervalued region where you can have outstanding wines for 15 euros to 40 euros. They are easily worth double the selling price and age beautifully for 15-20+ years.
Enjoy the most talented wine makers' bottles here in Alsace. Small family owned producers that are not easy to find outside of Alsace. And their best bottles rarely make it outside of France.
Are you in search of memorable meals and the most talented chefs? In Alsace you can have exquisite meals for 20 euros to 40 euros, literally half the price of a decent restaurant in Paris.
Authentic Alsatian restaurants full of locals. Experience real Alsatian cuisine made from old-fashioned family recipes. No tourists in sight, except you ; )
Other Alsace Tours We Could Do

Sommelier and Wine Collector Tours
Intrigued? Here's the Next Step

I'll need to know a few things like:
When are you coming?
How many people are coming with you?
What white wines do you currently love drinking?
Do you already love some Alsace or other European wines?
What foods do you absolutely LOVE or detest?

Where are you thinking of staying or have already reserved?
I can plan one or multiple day wine and food tours for you.
The cost will vary depending on
where we are going and what we are doing

300€ or more for 2 people for a full day
330€ or more for 3 people for a full day
360€ or more for 4 or more people for a full day
Just send me an email and we can get started planning your very own private Alsace wine and food tour!