Learn about how your Alsatian ancestors lived, what were their traditions and customs, what did they do, and much more.
We'll get away from the touristy stuff and do Alsace in a very different way. We'll go back in time to your Alsace family's time and let you connect with them through their traditions, beliefs, daily life, food and everything else.
And if you want to take home some meaningful souvenirs (like things your great great great grandmother probably had), we can even do that!
Even some traditional clothes if you really want...
Sure...you might want to taste some wine and see some beautiful places too, but I know it's not the main reason you are planning this Alsace trip.
A Few Alsace Heritage Tour Reviews


Suzele,
We had a wonderful time with you last week. Thank you so much for making our trip special, and showing us where the Brecheisen ancestors lived.

JC, Lacey and Kayla, KS USA
---
We spent two days in Alsace with Suzele. The first day was spent visiting the area our family had come from. With her help we even found a house we believe a family member built and lived in. Her knowledge of the area and it's history is excellent.
The second day was pure fun sightseeing and wine tasting. Suzele was fun to be with.
Good company, excellent knowledge and a good value.


Sue, CA USA
---
A Special Tour Focused on your Alsace Genealogy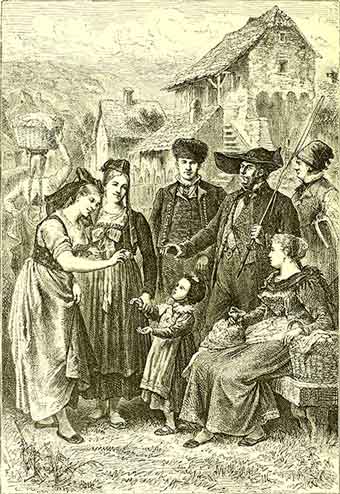 There are two types of tours we can do to introduce you to  your Alsatian heritage:

A Visit to the Areas your Alsace Family Came from
If you know where your family comes from in the Alsace region, we can go there. I know how much a visit like this can mean to you when we are standing somewhere that your Alsace ancestors once stood. 

It's not the only thing we can do to bring you closer to your Alsace roots, but it's still a great way to get started.
A Special Day Tour Focused on Traditions and Culture in Alsace
Sometimes you just don't know the names of the villages of your ancestors from Alsace. And even if you do know where to go, here are some of the wonderful things we can do outside of your ancestral village.

Show you many of the everyday items your ancestors used, why they used them, what they did with them and more
See what kinds of houses they probably lived in, what kinds of furniture they had and more
Learn about what they celebrated, how they celebrated and more
Learn about and eat what they really ate every day, on special days, how they cooked and more
See how they dressed every day, on special occasions, where they got their clothes and more
Learn about what they were afraid of, excited about, and more
Learn about what was going on in their time period, why they left, and more
These are just some of the possible things we could talk about on a special day focused on your Alsace heritage and ancestry. So if you know about the time they arrived in your country, we have enough information to introduce you to quite a lot.
And of course, the more information you have on your Alsace genealogy, the better.
Other Alsace Tours We Could Do
Or you can check out the other sorts of Alsace Tours I do. All my tours are customized to your interests and preferences. I can talk about many different subjects related to Alsace, so just let me know : )
Sommelier and Wine Collector Tours
So What's Next?

I'll need to know a few things like:

When are you coming?
Where are you thinking of staying or where have you already reserved?

How many people are coming with you?
Tell me more about your family's history and your research

Starting at
350€ for 2 people
400€ for 4 people
450€ for 6+
The cost will vary depending on
where we are going and what we are doing
Just send me an email and we can get started planning your very own private Alsace Genealogy tour!