Alsace Day Trips from Saverne Hotels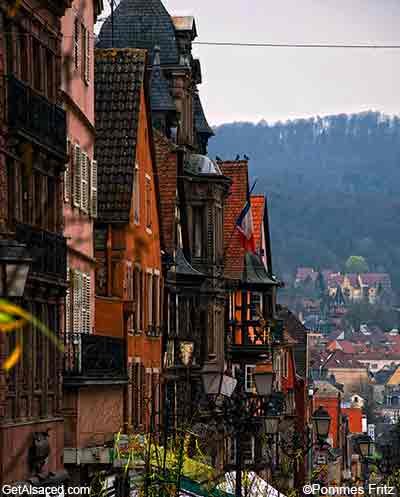 Saverne is on the Rhine-Marne canal near one of the few mountain passes in the Vosges, so it's easy to get to by canal barge. But it's also easy to reach by train!
If you're looking for a more quiet and off the beaten path Alsace vacation, Saverne could be a good base for you.
All distances given are the approximate distance from the center of Saverne France.
Villages with a * have a train stop or train station.
Marmoutier
4 miles/6 km
Other than being just another adorable village in Alsace, you can find the oldest (and still standing) basilica in Alsace in Marmoutier. It was originally built in the 600s. Of course it's been repaired and enlarged over the centuries, but it's still a rare find. You can tour its cellars by reservation.
Saint Louis Arzviller
11 miles/18 km
Saint Louis Arzviller is the location of what could be described as a "boat lift" or "boat escalator". It's the only one of its kind in Europe. It's great for kids and there is a summer luge run nearby that your family will love!
Marlenheim
12 miles/19 km
Marlenheim is considered to be the first stop on the Alsatian wine road (or the last stop depending on which direction you are going). It's a beautiful village not far from Strasbourg and every year the town puts on a traditional Alsatian wedding on the 14th and 15th of August.
La Petite Pierre
14 miles/22 km
La Petite Pierre also known as Luetzelstein is a small village in the northern Vosges mountains in Alsace with a 12th century castle and a lot of interesting and unusual things to see and do... If you enjoy a light relaxing hike of an hour or more, this village is exactly what you're looking for.
Molsheim*
18 miles/28 km
Molsheim is best known as the home of Bugatti. You can still tour the Bugatti Foundation in Molsheim or you can go just next door to Dorlisheim where their new Bugatti car factory is now located. But Molsheim is still a wine road village and its medieval city walls are still standing...right next to vineyards even!
Lichtenberg*
19 miles/31 km
Lichtenberg is the name of a small village and its 13th century castle. Unlike most of the castles in Alsace, it was not destroyed by Louis XIV and the 30 Years War, but it was damaged by the Franco Prussian War in 1870. It has been renovated and is available for visiting most of the year.
Strasbourg*
23 miles/37 km
Just in case you didn't already know...Strasbourg is the capital of Alsace. It has a gothic cathedral that you can climb to the top of (if you think you've got what it takes), 16th and 17th century historic neighborhoods, at least 12 museums, shopping, and everything else.
Looking for Saverne Hotels?

Le Clos de la Garenne is a charming and rustic small hotel or large bed and breakfast with individually decorated rooms. Very original style. Fantastic breakfast and restaurant. Outdoor jacuzzi. Great choice for a romantic stay in Saverne.
The Hotel Europe is a lovely three star hotel located near the canal and the center of Saverne. Choice of different hotel room styles to suit your tastes. Air conditioning and breakfast. A slightly more luxurious option of the Saverne hotels.
The Hotel National in Saverne is a simple little discount hotel conveniently located near everything interesting in Saverne. Some rooms with balconies have nice views of the surrounding countryside. For what you pay, it's a good choice if you're looking for discount Saverne hotels.