Each grape variety in Alsace translates differently from one part of the vineyard to the next....

Mostly it's because of the micro climates in Alsace.
The Alsace wine road is very hilly and each hillside is different. Some are more protected from wind and rain, some get more sun, and the sensitive grape varieties change according to the weather each year.
Then there are the different soils, subsoils and bedrocks...

It seems like every hill has a different one which can mean that the roots get warmed up earlier in the year and start growing sooner or that the earth stays colder longer and starts later.
Soil type can affect the water drainage and so much more...
Not to mention that each bedrock can affect the grapes in unique and consistent ways, so with practice, you recognize a wine made on granite, for example, just by the taste regardless of which grape variety it is...
And then you add in the personal style of the wine maker in the vines and in the cellar...
Do they try to control the end product in the cellar with synthetic chemicals or do they let the grapes speak for themselves? So many things that can make the difference between an "ok wine" and an amazing one.
The best part is that amazing wines in Alsace are still undervalued! So they're actually underpriced in relation to the quality of the wine...haha I LOVE living here : D

They will test their grapes throughout the growing season and throughout the fermentation process to try and choose the most appropriate day for bottling or picking...

They are in their vineyards throughout the season...
And at the end...you have this wonderful diversity of product here in Alsace...the many different types of wine in Alsace.

This is not grocery store wine...
These wines are made in small quantities and they will not be the same from year to year.
An experienced wine maker will of course produce a high quality product...but the terroir (or soil, climate, etc) will express itself.

If you really want to get to know the wines in Alsace, wine tastings are the best way to go.
It's the perfect opportunity...
To taste a range of Riesling from different vineyards for example, so that you can learn about how one type of soil and climate can create a distinct flavor...
Just because you tried a glass of Riesling or Pinot Gris once does not mean that all Riesling or Pinot Gris will be the same...
So get out there and taste the same wine from different vineyards or...
From different wine makers or...
From different years.
The truth is...you're going to have to drink a lot of wine if you want to get to know Alsatian wine and understand what terroir is...

Horrible, isn't it... ;)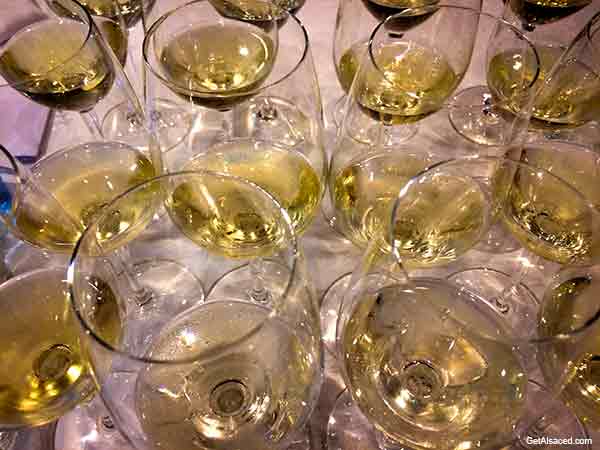 So Many Wine Varieties in Alsace

Of Alsace's many different types of wine, it's most famous for its white wines...
And although there are only 10 types of "approved" white wines produced in Alsace, there is such a variety of flavors.
I can safely say that where white wine is concerned, there is a wine to suit everyone's preferences in Alsace.
And if you are one of those people who "doesn't like white wine"...
So was I when I first moved here...but it didn't last long...not to mention that red wine doesn't pair well with hot summer days ; )

Alsace only produces one type of red wine, but it's one of my favorites!
Pinot Noir can range from light and fruity to deep and full bodied...perfect!

And it's a finicky red wine that needs special growing conditions, so you won't find it everywhere in Alsace...
And if that wasn't enough...
Alsace also produces Crémant d'Alsace or Alsatian sparkling wine...
They use the same method as in Champagne...
But switch it up with different grape varieties and blends like Pinot Blanc, Auxerrois, Riesling, and Pinot Gris to name a few possibilities...
And although Alsace is known for its dry white wines...
They also produce some incredible Vendange Tardive or Late Harvest wines which are very complex, sweet dessert wines...

Which require a lot of attention to detail...
And even more attention to detail goes into the making of the Selection de Grains Noble wines or Noble Rot wines...
Which produce some wonderfully complex sweet dessert wines that can be cellared for as long as twenty years or more...
And don't forget all the rules and restrictions wine makers are required to keep track of in Alsace...
These rules help to maintain the quality of the many different types of wine in Alsace and all of France.
More Information about Alsace Wine
The French Wine Region of Alsace
The Different Types of White Wine in Alsace
A Short History of French Wine and the French Wine Laws
Alsace Winery Reviews and Recommendations