Like the GetAlsaced website and share it with your friends on Facebook!

A Kids Amusement
Park in Alsace
The Bioscope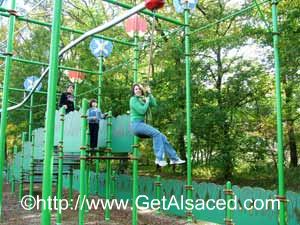 Unfortunately the Bioscope amusement park has closed. It was a great place for families and I hope that someday they will find a way to bring it back.

Bioscope is a relatively big kids amusement park in Alsace...
You could easily spend half a day there or more if everyone wants to go back and redo some of the fun things there.
It's an educational amusement park dedicated to the subject of the environment...
And it's about as much fun as I've ever had at an outdoor science museum anywhere.
Because it's an outdoor amusement park, it's only open from April to November.
What Can You Do at Bioscope?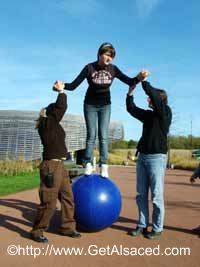 At Bioscope the kids amusement park in Alsace you can...
Shoot nerf balls at each other with cannons...
Go through a fun house...
Play a dancing game with a floor that lights up...
Go through a very challenging labyrinth...
Ride a twisty curvy zip line...
and quite a lot of other fun things...
Our kids were 7 years old and 13 years old the first time they went and really liked it...
They didn't want to leave.
The best part is that adults can play on almost everything at this amusement park for kids in Alsace...
So don't think that you won't have any fun.
Do you need to understand French to enjoy this amusement park for kids?
Our kids didn't speak French and they had plenty of fun at this educational amusement park...
It might be more interesting if you can read everything that is written down but...
Bioscope was created for young children as well as children at heart so...
Reading isn't required to enjoy yourself...
Or learn about the environment.
How Do I Get to Bioscope?
If you have a GPS, here are the coordinates...
47°51'38.52'' N 7°17'48.95'' E Altitude 222 m
If You're Coming from Southern Alsace
If you're coming from Basel, Mulhouse or Belfort (or anywhere in southern Alsace) on highway A36, take exit #18 going towards Guebwiller.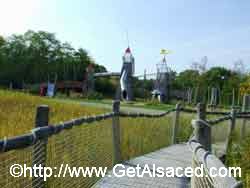 Continue on RD 430 (route departementale) until you get to exit #5 towards Bioscope.
If You're Coming from Northern Alsace
If you're coming from Colmar or Strasbourg (or anywhere in central or northern Alsace) on highway A35, take the Guebwiller exit, then stay on RN 83 (route nationale)...
Then take RD 430 (route departementale) going to Mulhouse...
Next take exit #5 towards Bioscope.
Bioscope is near the Ecomusée and Claire de Mine museums, so you will see a very large bizarre looking structure as you get closer to Bioscope...
That's the Claire de Mine museum. It's closed for now but it's a good landmark to help you find the Bioscope kids amusement park.

And you are going in the right direction!
Has this site helped you?
Sharing is the best way to say "thanks!"
Click "like" or "share" to share this specific page with your friends! Thank you so much for your generosity : )