Excellent Hotel and Restaurant in Bergheim on the Wine Road
by Suzele
(Alsace)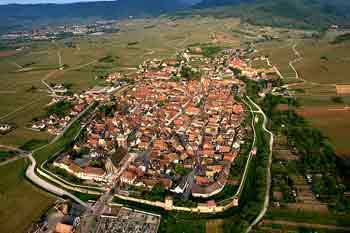 Bergheim and its City Walls
La Cour du Bailli is a charming hotel, spa, and restaurant in Bergheim.

Bergheim isn't one of the busy, crowded villages on the wine road, but it's just down the road from Ribeauville and Riquewihr.

If you like old fashioned rooms with wood beams in traditional Alsatian style buildings, you'll love this place...and they have a spa and a pool.

You don't find that very often in hotels on the wine road (not enough room)...

Take a look for yourself here and read what other people have to say about La Cour du Bailli Residence Hoteliere

There are two great restaurants in Bergheim too...

The restaurant at La Cour du Bailli is a traditional Alsatian type of restaurant and it's VERY good...not to mention the way they renovated this old building and turned it into a restaurant.

And then if you're more in the mood for something interesting and maybe a little different, the Wistub au Sommelier is great!

Great wine selection and inventive entrees...they've earned the right to be listed in the Michelin Red Guide too...

And after you've relaxed...you've eaten...go for a walk around Bergheim's medieval city walls (and I'm not talking about a few feet of wall either)...

There are also 6 well known wine makers in Bergheim to visit...have fun!!

Click here to find out more about Bergheim...