Alsatian Specialties


Asperges  or Spargla

If you want fresh Asparagus in France, you go to Alsace.
You'll find green asparagus, but Alsace is famous for it's white asparagus...

It's one of the few regions in France where it grows. It's traditionally eaten with ham and real mayonnaise. Every restaurant and café in Alsace will be serving a few different meals involving Asparagus when it's in season.
Baeckeoffe
This is one of the most well known Alsatian specialties.
And I do mean "meal" so make sure you're hungry!
The story of this Alsatian specialty goes that on wash day the village women would put everything in the pot and take it to the baker to cook. "Bäckeoffe" means baker's oven in Alsatian.
So, that's the story...but what does it taste like?
It's made with pork, lamb, beef and sliced potatoes. Slow cooked all day in a white wine sauce, usually Pinot Blanc or Riesling.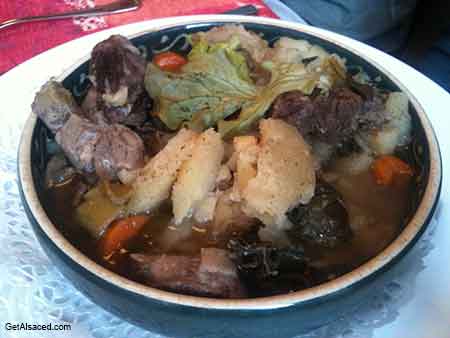 Bibeleskas
You'll find this Alsatian specialty in the appetizer section on the menu in a restaurant in Alsace...
Or you could even make it yourself.
Bibeleskas is made with a soft white cheese called "fromage blanc" which looks a lot like yogurt. In fact, we substitute it for yogurt sometimes at home.
Then chopped bacon, potatoes, chives, parsley, garlic, a bit of oil, salt and pepper, and you're done.
Everyone I know eats it on bread, but I've never met a Frenchmen that wouldn't so...
Bouchées à la Reine or Suppepaschtete
This Alsatian specialty can be made with a number of different meats...
Sometimes with chicken, sometimes with veal. Carrots, turnips, celery, leeks, and mushrooms, but I've seen it with different vegetables as well.
The important ingredient is the sauce which is a wonderful cream sauce...
And served in puff pastry cups!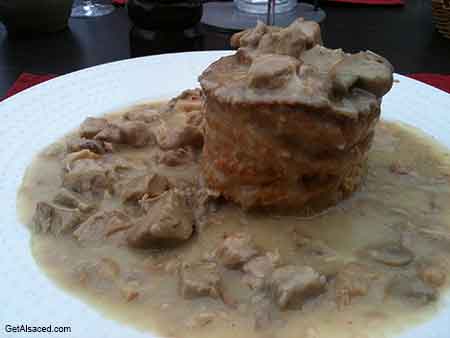 Boudin or Bluetwurst
Here's a traditional sausage from Alsace...
It's the red version of boudin or blood sausage and, unlike in the US, you can find it everywhere...
Even in the grocery store.
You will see this Alsatian specialty on restaurant menus and it's most likely going to be the red boudin, as most of the recipes I have looked at called for "bluetwurst".
Carpe Frite
There are a lot of creeks and streams in Alsace.
So there are a lot of traditional dishes that involve fresh water fish. And this is one of them.
You'll find Carpe Frite more often in southern Alsace. It's fried carp, usually served with french fries and salad.
Carpe Frite has a similar taste to fish and chips.



Cervalas or Knack
Here's something you can look for in a butcher or charcuterie shop...or a restaurant...
It's an Alsatian sausage that is short and fat.
This Alsatian specialty has a taste similar to a hot dog. You'll find it in salads a lot.
Charcuterie
You're probably wondering what a Charcuterie is...
I was too when I first got to Alsace because they are everywhere here!
It's two things. It's the name for a delicatessen and the name for the stuff you find in a delicatessen like sausages and cured meats.
But don't show up hoping to get a corned beef on rye. Charcuteries don't normally do lunch.
They are more like butchers, but they specialize. And sometimes a butcher shop (boucherie) will also be a charcuterie.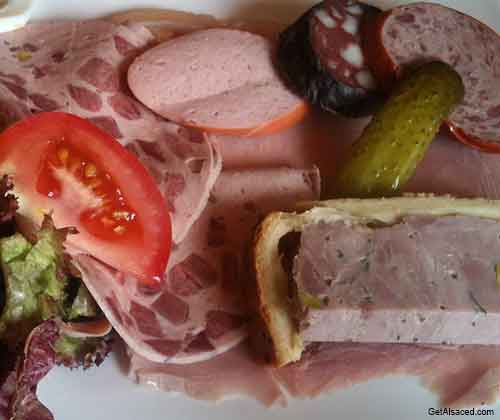 Choucroute or Sürkrüt or Sürikrüt
This Alsatian specialty is what Alsace is famous for...also known as sauerkraut.
Except that it tastes lot different than German sauerkraut...
It's shredded cabbage fermented in salt water over a period of time. And before freezers and refrigerators, it was the only way to preserve it for winter.
It's often cooked with a Riesling white wine from Alsace, potatoes and other spices.
Choucroute Garnie
Sometimes you will have the opportunity to have choucroute as a side item...
And then there's Choucroute Garnie...
It's Choucroute served with potatoes, very thick slices of bacon and other smoked and salted pork meat, sausages, etc...
Make sure you're hungry...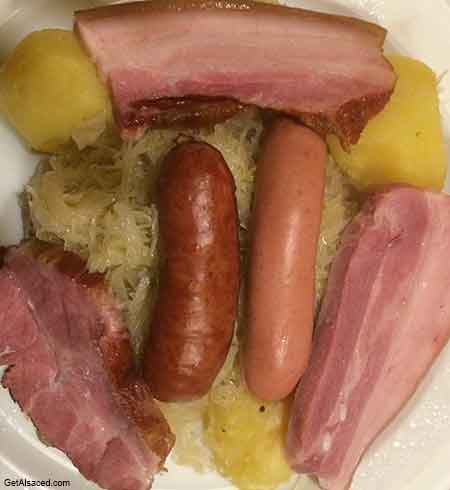 Coq au Riesling
I wish I had a picture of Coq au Riesling that would do it justice...

If you think chicken, shallots, garlic and carrots would taste good in a Riesling wine, cognac and cream sauce, then you might want to check this out...
And if you have no idea what that would taste like, let me tell you....
It's really good!!!
Escargots à l'Alsacienne
Yes, I know...snails...but not just snails...
Snails in a garlic, shallot, parsley, white wine butter sauce. I'm telling you, you would like ANYTHING cooked in this sauce!
You'll definitely need some bread for this dish...mmmm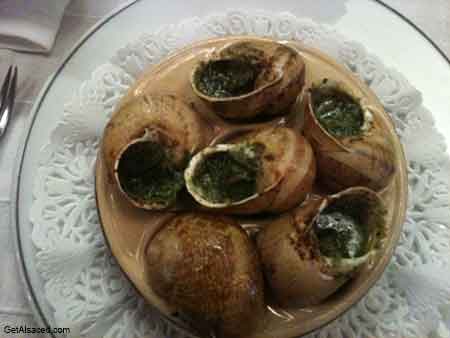 Filet de Sandre au Riesling
Shallots and parsley cooked in a bit of butter with Pike Perch filets...
After the fish is finished, the sauce is created by adding Riesling, cream and mushrooms...
Flammekueche or Flammakuacha or Tarte Flambée
The traditional Flammekuecha is similar to an oven baked thin crust pizza with cream, onions and chopped bacon.
But most restaurants have a few different versions for you to try...
"Nature" is the normal Flammakueche.
And then there is usually one with Munster cheese or maybe with mushrooms...
There's no limit to what might be on the menu including dessert Flammakueche.


Fleischschnacka or Fleischschnecke
Literally it means "meat snail" but don't worry...there are no snails in this dish.
The meat is slow cooked beef like from a beef stew.
They grind it up and spread it on a crepe or very thin pancake, then roll it up. So when they cut it into slices, it looks like a spiral which is where the "snail" name comes from.
Then they cook each slice in a pan with a little butter...
And it's usually served with a sauce made from the slow cooked beef...yum!
Jamboneau or Wadele or Waedel
It's the ham hock or ham shank cut of pork
A very popular cut of meat in Alsace. You'll see this Alsatian specialty served in so many different ways.
Knepfle or Spaetzle
This is an Alsatian specialty that everyone will love.
It's handmade Alsatian pasta.
You'll get plenty of opportunities to try it because it comes as a side item with almost everything on the menu.
The only difference between Knepfle and Spaetzle is the size of the pasta. Knepfle are larger than Spaetzle.


Lewer Knepfle or Lawer Knepfle or Quenelles de Foie
If you like liver, you're going to love Alsace.
They have come up with so many ways to cook liver that even someone who hates it would probably be willing to try some...
This recipe is ground liver and bacon mixed with bread crumbs, eggs, shallots and parsley.
They make little "knepfle" shaped balls, boil them for a few minutes and then cook them in a pan...
If no one told you, I doubt you'd ever guess it was liver...
Munster
For those of you who think you know what Munster is...
Let me tell you that the "Muenster" in the US has absolutely nothing in common with what is made in Alsace except that they are both made from cow's milk.
Munster made in Alsace is a soft creamy cheese.
It's the sort of cheese that you are either going to hate or love...
There's no room for indifference with Munster because it has a very distinct taste and there's only one way to find out if you like it.
If it's your first time, try a young Munster.
If you like the young Munster, you may like a more mature Munster, but if you don't like the young Munster, you can forget about aged Munster.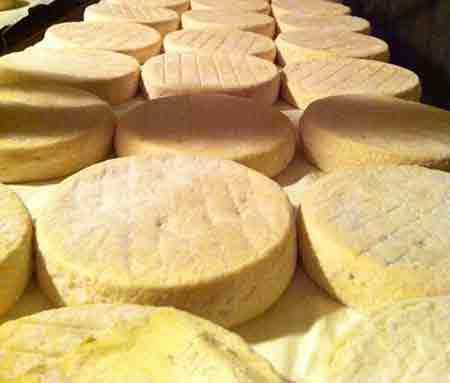 Presskopf
Presskopf has been around for a long time...
It is made of the meat (not organs) in the head area of the pig. It's slow cooked with carrots, leeks, onions, celery, garlic, parsley, and white wine.
Then it's pressed into a container until it cools. Presskopf is usually served in slices as an appetizer in restaurants.
Salade Vigneronne or Wurst Salat
There are a number of variations for a Salade Vigneronne.
Usually, it involves chopped Cervalas or a sausage similar to it with a Swiss cheese, usually Emmentaler or Gruyere.


Soupe à la Bière
Onions, butter, flour, chicken broth, cream and...beer...
Aren't you curious?
Süri Lewer or Suri Leberle
Suri Leber is beef or veal liver cooked in a tart sauce.
Onions and sliced liver are cooked in a pan with a dry white wine or for a more sour taste, balsamic vinegar.
I had never eaten liver when I tried this...
And if no one had told me, I would never have guessed that it was liver.
Tarte à l'Oignon or Zebelekueche or Zwebelekuacha
A thin pie with no top crust made with onions eggs, cream, and minced bacon.
Think French Onion Soup in a pie crust!
Usually served with a salad or crudité...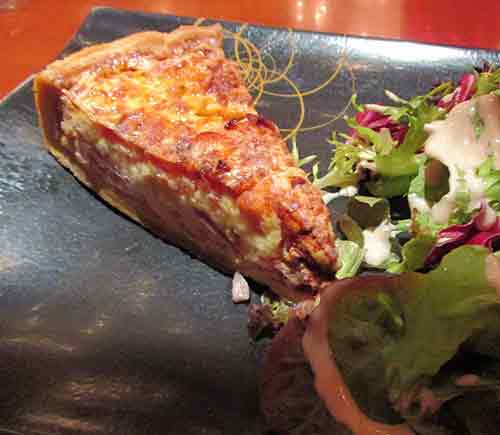 Tete de Veau or Kalbskopf
This traditional Alsatian dish is similar to Presskopf, except that it is made of the meat (not organs) in the head area of a calf.
It's slow cooked with carrots, leeks, onions, celery, garlic, parsley, and white wine.
Then it's pressed into a container until it cools.
Tete de Veau is usually served in slices as an appetizer in restaurants.
Tourte au Reisling
There are a number of different deep dish pies in Alsace...
This one is made with pork shoulder and veal shoulder, eggs, cream, parsley, chives and ...of course...Riesling wine.
More Information on Alsace Cuisine
Your Own Personal French Food Dictionary
Shopping in French Supermarkets in Alsace
French Restaurant Food in Alsace
Alsatian Christmas Cookies: Bredele
Your Alsatian Food Questions Answered