Unique French Dishes

Bouchée à la Reine
This is a personal favorite!
If you ever make a trip to a French grocery store (which I highly recommend because you will see many things that you have never seen before), you may run across little millefeuille or puff pasty cups for sale in the bread and pastry section.
These are for making Bouchée à la Reine.
But the restaurant will do a much better job most likely because they will make the millefeuille cups by hand.
They will then take the meat mentioned in the description, usually veal, and cook it in a pan and make a cream sauce possibly with mushrooms and/or other vegetables.
They will then put all of this into the millefeuille cup or cups. It's absolutely wonderful!
Children usually love this French restaurant food item, but it's usually not a small serving.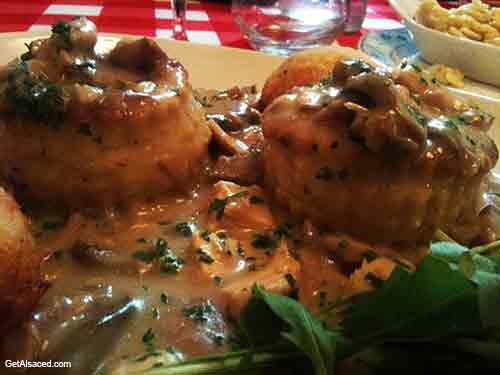 Cordon Bleu
This is my husband's favorite French restaurant food item!
So I know quite a lot about it...
The traditional version involves a large thin piece of veal wrapped around some ham and cheese and then breaded and fried.
It can come with a variety of different types of cheese which will be listed if that is the case. Normally, it comes with Emmental (or Swiss) cheese.
In Alsace, the usual optional cheese is Munster.
Cordon Bleu can also come with a cream sauce occasionally.
Crudité
This is something you will almost always see on the hor d'oeuvres menu in Alsace.
And you may think you know what it is. I know I did.
And I was quite surprised when this particular French restaurant food item arrived, so I thought I would mention it here.
Crudité in Alsace can be a combination of a few different things. The ones I have seen are cold shredded beets, carrots, celery root, cabbage, and occasionally different types of sausage.
Basically, it is a variety of little vegetable salads made of the ingredients listed above with a creamy dressing (similar to Ranch dressing).
If that appeals to you, go for it. I love it.
Flageolets
These are very popular beans in France.
The sort of dish that every French kid ate growing up at home.
Personally, I think they taste somewhat like very firm baby Lima beans. For substitutions in recipes, navy beans are recommended.
Foie Gras
In France, Foie Gras is sacred. It's a part of their culture and they love it!
This French restaurant food item can be prepared in many ways including being formed into paté, but paté is only one of many possible ways to serve Foie Gras.
There are two kinds, duck liver and goose liver.
You'll have many opportunities in Alsace to try it out because Alsace is one of the two main producers of Foie Gras in France.
They love to put it in everything! And it will be prominently mentioned when it is part of a dish.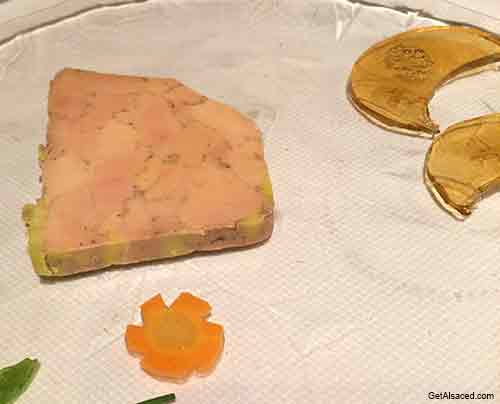 Paté
Paté means that the ingredients (whatever they are) are finely ground to a paste. It could be any type of meat and it could even be vegetables.
So Paté could be used as a spreadable paste. It could take a form and texture similar to a quiche or meatloaf (possibly in a pastry or pie shell).
It could also be used as stuffing or dressing to a roast, chicken or any other meat.
Goose liver or duck liver paté is often used as a stuffing in dishes
Pot au Feu
Pot au feu or literally translated "pot on the fire" is a slow cooked traditional French soup that can be made out of any meat or vegetables, but is traditionally made with beef and root vegetables.
The flavor can vary from one French region to another and from one chef to another...
Normally, the broth is served first, followed by the meat and vegetables.
This particular French restaurant food item is the sort of food your grandmother might have made. A real comfort food that takes all day to make...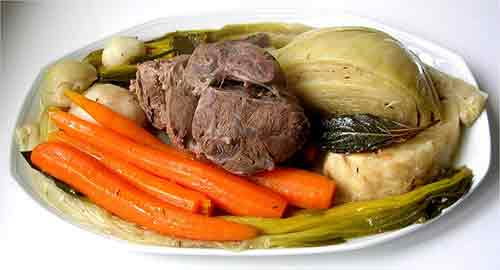 Salade
This is yet another menu item that has surprised me.
It would seem that a salad is a salad, but you might be expecting something different than what you receive.
In Alsace (and probably the rest of France as well), a salad is a combination of cold ingredients with lettuces. So far so good, but the French do not consider lettuce to be the most important ingredient in a salad.
So, you may very well get a salad made of all sorts of things presented on a few leaves of lettuce.
Something else to know about salad in France is the choice of salad dressings.
The standard dressing in France is a creamy vinegar-flavored dressing. There are rarely many other options other than olive oil and balsamic vinegar.
Steak
I know...you're thinking..."I know what 'steak' is!"
But if you haven't had French steak, then you may be expecting something else...
French steak is just as good quality-wise as in the US, BUT they do not season them at all...
If you are used to a nicely seasoned, marinated, and very flavorful steak like in the US, you may find the French steaks lacking in taste...
BUT that's because the French eat their steaks a little differently than Americans do. In a restaurant, the server will most likely ask you if you want a sauce with it.
I highly recommend the Maître d'Hôtel sauce!!!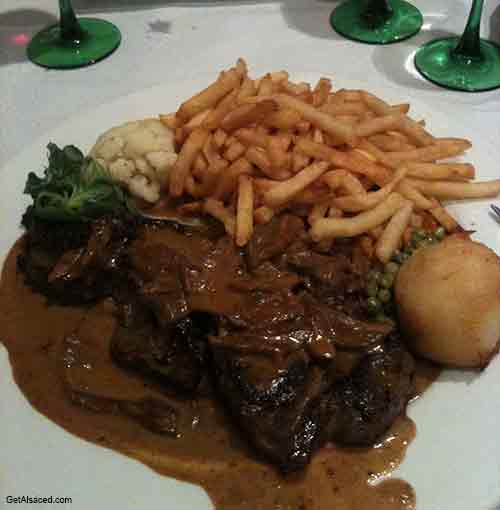 Terrine
It is difficult to explain, but I will try because this is a very popular type of dish in Alsace.
I have found that the French can take just about any average dish and turn it into something amazing. You'd think that something described as a "French meatloaf" wouldn't be worth checking out...
But it is.
The best I can do to describe this French restaurant food item is to say it is similar to a meat pie or meatloaf, but much better.
It can be made with any number of different meats and I often see different "terrines" on display in cafés, restaurants, butchers, and grocery stores.
It's often listed in the hor d'oeuvres section of the menu.
And if you are vegetarian, don't assume that all terrines are meat-based. There are vegetable based terrines too!
Vol au Vent
This French restaurant food item is basically the same as Bouchée à la Reine.
Sauces

Sauce Forestière
A mushroom based cream sauce...very delicious if you love mushrooms!
Maître d'Hôtel
It is actually butter mixed with parsley, lemon juice, and possibly garlic among other things. You can find it in French grocery stores under the name "Beurre de Paris.
It is usually next to the "Escargots".
That's because this is the heavenly sauce they use on escargot, but you don't need to eat snails to love this sauce.
We put it on EVERYTHING!
In a restaurant, it will often come with your steak.
More Information on Alsace Cuisine

Your Own Personal French Food Dictionary
Shopping in French Supermarkets in Alsace
Alsatian Specialties in Restaurants
Alsatian Christmas Cookies: Wihnachts Bredele
Your Alsatian Food Questions Answered