Family Fun in Southern Alsace

What Kids Like to Do in Southern Alsace

The EcoMusee is an very large outdoor history museum which is a perfect trip for family fun in southern Alsace. The buildings are real Alsatian homes from the middle ages to the nineteenth century. They have craftsmen and women demonstrating traditional activities and lots of kid-oriented things to do (including a turn of the century carnival with working rides).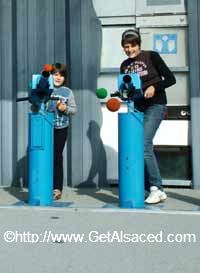 Vieil Armand also known as Hartmannswillerkopf is in the Vosges mountains and the location itself is a great place for a leisurely hike. So lots of climbing and running and jumping space for kids. But it's more than just a great place to enjoy nature. It's also a historical park with very well preserved World War One trenches and a museum, cemetery and memorial. The trenches are open for visitation year-round, but the museum is closed in the winter.
The Cité du Train in Mulhouse is a huge museum dedicated to trains. There are many actual trains on display. Most of them you can climb on and look around inside. And, best of all, they have free audio tours in English, French, and German.
The Electropolis in Mulhouse is yet another huge museum all about Electricity. If you enjoy science and discovery museums, you'll love this one. There is plenty of hands-on activities to help you learn all about electricity. And the free audio guides are available in English as well as five other languages.
The Cité de l'Automobile in Mulhouse is a lot of fun too! It's also an enormous museum of some of the finest cars ever made. But that's not all...you can also get behind the wheel, try to crank start a turn of the century vehicle, and even change the tires on a Forumula One racer. For the smaller kids, there is a great play area and go carts!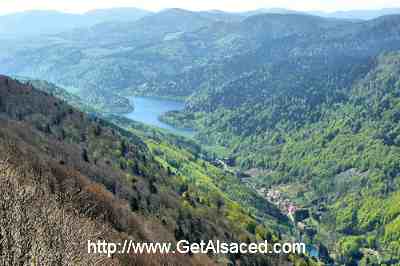 For great views and a chance to play in the water, check out Lac de Kruth (also called Lac de Wildenstein). It is the largest lake in southern Alsace. Whatever you want to do, they have it: paddleboats, swimming, fishing, diving, hiking, etc... and only 45 km from Mulhouse.
The Rhine river isn't exactly in Alsace, but it's right next door. It goes through Basel and is the French-German border and, in the summer in Basel, you'll often find people floating down (or more precisely up because the water flows north) the Rhine river. Not much work to do, the river does all the work.
And if you're going to be visiting the week after Ash Wednesday, this is a family fun in southern Alsace must do! Your kids will absolutely love Fasnacht in Basel! It's similar to Mardi Gras, but very family friendly. There are parades, marching bands, and lots of people dressed up in funny costumes.
If you're going to be having family fun in southern Alsace during the Christmas holidays, you might find outdoor ice skating rinks in the town or village you are staying in. They can get crowded (so try to go as early as possible), but the kids don't care. They love it!
If you have the time, you can treat the kids to something they'll really LOVE! Europa Park is a mix between Disneyland and Six Flags and it's only an hour drive or less from anywhere in Alsace. It's in Rust, Germany. There's plenty for everyone no matter what age they are here. It's not exactly family fun in southern Alsace, but we all love it!
If you're going to be near Mulhouse at the end of July or beginning of August, you can check out the Kermesse. It's the equivalent of a state or county fair with rides, food, and all sorts of fun things to do.
If you are going to be in Alsace between the end of October and the first half of November, you could check out Herbstmesse in Basel, Switzerland (you can get there by train from anywhere in Alsace easily). It's their yearly "State Fair" and it's as interesting for you as all the rides are for the kids. Get a taste of Swiss culture and let the kids have fun too! It's conveniently located in the old parts of town. It's so big they have to separate it into different areas, so you will get to see some of Basel too.
Basel, and Mulhouse have Zoos. You're always just a short train ride from any of these Zoos no matter where you are in Alsace. We prefer the Basel Zoo, but then we aren't far from Basel.
Almost every village and most towns have walking, cycling, and skating paths. When the weather's nice, we often go for a walk or even better go skating! If you are bringing your bikes, all the better, but you can probably find somewhere to rent whatever you need if the area attracts tourists on a regular basis. Your hotel should know where to find them.
Our kids find Bowling interesting. Be careful though. Not all bowling alleys in Europe are kid-friendly. A lot of them are like pool halls but with bowling lanes too. Check with your hotel. They may be able to point you in the right direction.
You can find Go Kart Racing Tracks if you're looking for family fun in southern Alsace. Some of them have other things like Bowling and Mini Golf too. There are also stand alone Mini Golf courses to be found, but it's just normal mini golf, not a Pirate Adventure Mini Golf or something like that.