Walking Paths on the Alsace Wine Road
by Suzele
(Alsace)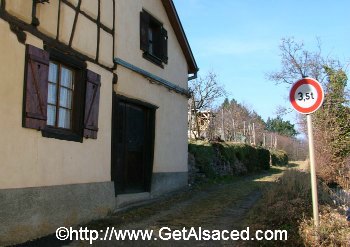 A Walking Path in the Vineyards in Alsace
Here's a picture of one of the thousands of walking paths you'll find in pretty much every village in Alsace.

Of course if you want vineyards, you'll have to go to the wine road.

This photo was taken in a little village on the wine road in Alsace in very early Spring.

As you can see the vines haven't quite started to bud and make leaves which is pretty normal if Spring doesn't come early.

If you like to go for a walk surrounded by beautiful scenery, you'll be spoiled for choice here...

Although some areas have particularly stunning views...

From time to time usually during grape harvest, some of these paths are closed, but like I said earlier, there are thousands of them...

And if you're on the wine road in Alsace, the vineyards are everywhere...

So you will always be able to find some walking paths somewhere nearby.

And on the Alsatian wine road, you're never far away from the vineyards even during the grape harvest.

Biking these paths could be an option, but the paths are not always smooth, so mountain bikes will be necessary.

Sometimes uphill and sometimes downhill, you can find something to suit you most of the time.

All you need is a sense of adventure!