The Yogurt Section of a French Grocery Store in Alsace
by Suzele
(Alsace)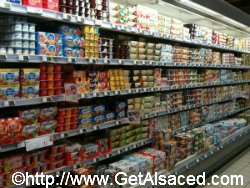 One Side of the Yogurt Section in a Medium sized French Supermarket in Alsace
If you love yogurt, you will be in heaven here in Alsace...

I think you could try a new one every day and not repeat for at least 6 months if not longer.

Taking a picture of the yogurt section is not easy without a wide angle lens and it's still impossible because it takes up the entire aisle.

Every combination you could imagine times one hundred!

Oh well...at least it's relatively healthy...

My favorite is lemon yogurt by Danone Taillefine or Activia No Sugar Added.

The yogurt section in French supermarkets is well organized...

You'll find plain yogurt, fromage blanc (pre yogurt), fruit yogurts, low sugar yogurts, kids yogurts, dessert yogurts, drinkable yogurts, etc...

And the French word for yogurt is "yaourt" /yah oo urt/

Not the easiest word to pronounce...you say it all in one syllable.

But the good news is the German word for yogurt is pronounced almost exactly as we do in English!

So no problem!