Storks in Alsace
by Tom
(Riverside, CA USA)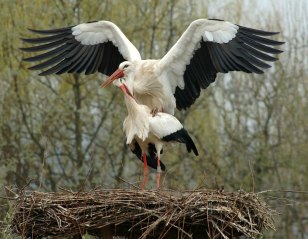 Storks in Alsace
When we visited Alsace last month, I had no idea how intertwined in the Alsatian culture the stork (La Cigogne) is.

It is my understanding that the tale of the stork bringing the baby to a family started in Alsace. Is this true?

The site of storks nesting on the top of buildings was incredible. On what I guess was an abandoned building in Munster, I counted 5 storks with nests.

Storks are ubiquitous in Alsace thanks in large part to the stork conservation center in Hunawihr.

If you love these birds, please go and visit. It is quite a site.

It seems that everything that happens in Alsace happens under the watchful eyes of a stork from up above.