Looking for Info on village/farm of Sulzthal and my 6th Great Grandfather, Johannes Yoho
by James
(United States)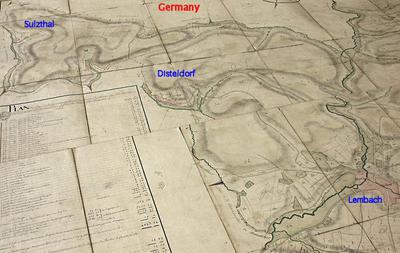 Sulzthal in relation to Lembach; don't know what the numbers mean
Hello! I am looking for the location of Sulzthal, near the present town/village of Windstein near Lembach, Alsace. Sulzthal apparently was not a village, but the name of a farm where my 6th Great Grandpa, Johannes Yoho was born ca. 1712, to Johann Michael Yoho and Susanna (Gelker) Yoho. If anyone can find any historic records of Sulzthal from around 1660-1740 that would be amazing!


This farm (Sulzthal) was apparently owned by Johannes' wifes' relatives (Lau or Laur). His wife was Susanna Catherine Laur/Lau, and her father is (supposed to be, but I have seen otherwise) Theobald Lau.
It has been handed down for generations that they (Johannes and Susanna) had children in Alsace before they came that died and I would love to know all I can about them. Family tradition also says Johannes was a wooden shoemaker. His father, Johann Michael Yoho (or John Michael Yoho) was supposed to have been a meat cutter at Sulzthal. Any support of these things would be absolutely amazing!
Apparently nearby was a town/village/farm named Mattsal? In the family record it says Johannes first child, Maria Christina Yoho was born ca. 1735 in Mattsal, Alsace. Could this have still been at Sulzthal, and this was a nearby town? Did he move to Mattsal? This information would be amazing! I think 1738 is supposed to be the year that they came to America, but I am not sure. Thanks for any help! It would be tremendously appreciated!
(P.S. Below is a map scanned of the area of Sulzthal, Alsace. This is all that I have though, and have no idea what the numbers on the parcels, roads, and rivers mean. This must be from the 1700's or so. If you can find this same map too that would be absolutely amazing!)