Alsace Daytrips from Itterswiller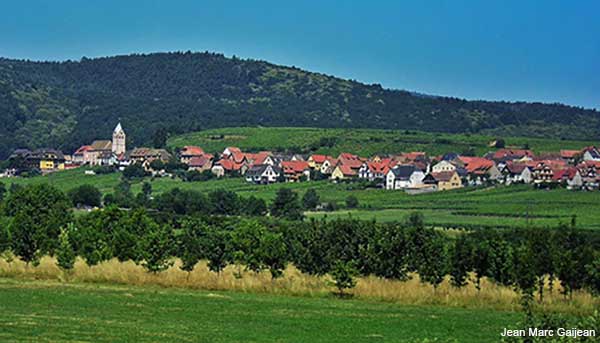 If you decide to stay in Itterswiller, you'll have a lot of short daytrips to choose from...

You'll find 5 villages less than 5 miles away (with many more that I didn't have room to mention) so you can take a walk or ride a bike through the vineyards to some of them if you want.
It isn't accessible without a car unless you're interested in packing light and hiking or biking from Dambach la Ville or Barr (both 4 miles away).
Distances given are the approximate distances from the center of Itterswiller.
Villages with a * have a train stop or train station.
Mittelbergheim
3 miles/5 km
Mittelbergheim (like Riquewihr) is one of the most beautiful villages in France, but there are a lot less tourists here. Between Andlau and Barr you'll find some of the best Sylvaner wine (and many other grape varieties) in a quiet and peaceful setting.
Andlau
3 miles/5 km
Andlau has been making wine since Roman times when retired Roman legionaires started planting vineyards here. If you love old medieval houses, you'll see lots of them here in Andlau and if you're in the mood it's only a half day hike (3 hours average there and back) up to see two medieval castles (Haut Andlau and Spesbourg). And when you get back you'll have a good excuse to sit back and try some Alsace wine on your Alsace vacation!
Dambach la Ville*
4 miles/6 km
Dambach la Ville is the sort of Alsace wine village where you can walk around anywhere and see something really beautiful, medieval city walls and gates, beautiful old homes and a very interesting chapel. And there is a train station, so you can try one of the 30 wine producers in Dambach la Ville without renting a car!
Barr*
4 miles/6 km
Barr is a wine road village in Alsace that attracts fewer tourists AND has a train station, but it's not because it's not a beautiful little village with adorable winding cobblestone streets. So if you are looking for a quieter Alsace vacation, Barr might be for you.
Heiligenstein
5 miles/8 km
After you pass Barr if you're on your way to Ottrott or Mont Saint Odile, you'll find the village of Heiligenstein. It's a pretty little wine village with one big difference. They produce Klevener de Heiligenstein wine (which can only be produced in that particular area). It's related to the Traminer family, so if you enjoy Gewurztraminer, you might want to try this historic variety in Alsace.
Scherwiller*
7 miles/11 km
Scherwiller is known for its Riesling, so if you're a fan, you'll want to stop by. Speaking of which, Scherwiller has a train station so you can drink to your heart's content! And you can make a 45 minute walk to two castles, the Ortenbourg and Ramstein from the village.
Ottrott
9 miles/14 km
Ottrott is a beautiful wine village in Alsace with quite a lot of castle ruins if you're interested... It's also the closest village to Mont Sainte Odile and you can walk to it in about an hour or drive. Ottrott is also famous for its Pinot Noir (they've been making it since the 1100s).
Looking for Hotels in Itterswiller?
If you're looking for a room with a fantastic view of the vineyards, you'll find it at Hotel Arnold. This hotel and restaurant is particularly popular with French tourists visiting Alsace. Breakfast, WiFi and parking available.
Les Chambres du Vieux Pressoir
Here's an adorable little bed and breakfast in Itterswiller just perfect for anyone looking for a cozy, old fashioned Alsatian vacation. They also have an excellent Alsatian restaurant. Breakfast, parking and WiFi included.