It's Cherry Season in Alsace!!
by Suzele
(Alsace)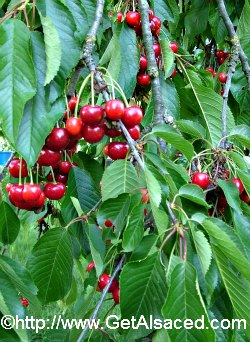 Cherries on a Tree in Alsace Waiting to Be Picked
If you're visiting Alsace in June and July, you'll have the privilege of seeing cherry trees all over Alsace full of cherries!

Cherries grow wild here in Alsace...you'll see cherry trees everywhere...often on the side of the road even...

The French word for cherry is cerise...

So if you see a sign for cerise on the side of the road, stop and pick up some freshly picked cherries from a local farmer...usually for a much cheaper price than you would find in the French supermarket.

In fact whenever you see a handmade sign on the side of the road or in a village, it will lead you to a local farmer selling seasonal fruits and vegetables most of the time.

Oftentimes these are local Alsatians with a bit of land and they have too much product to eat or give away to friends so they are selling it.

You'll also find fresh fruits and vegetables for sale at the weekly local markets in larger villages.

Usually they are on Wednesday mornings or Saturday mornings but they vary from village to village.

Many women don't work on Wednesdays because there is often no school or a half day of school for children on Wednesdays, so it makes sense to have a market at that time.

The Alsatian word for cherry is kirsch and you won't likely see it written on a sign on the side of the road or in a shop...

But you will see it written on a cherry brandy made locally in Alsace!

You may also see it poured over ice cream or cakes on the dessert menu in local Alsatian restaurants...

A gueta (bon appetit in Alsatian)

Suzele


Join in and write your own page! It's easy to do. How? Simply click here to return to Recommendations and Suggestions about Alsace.