Alsace Daytrips from a Hotel in Albé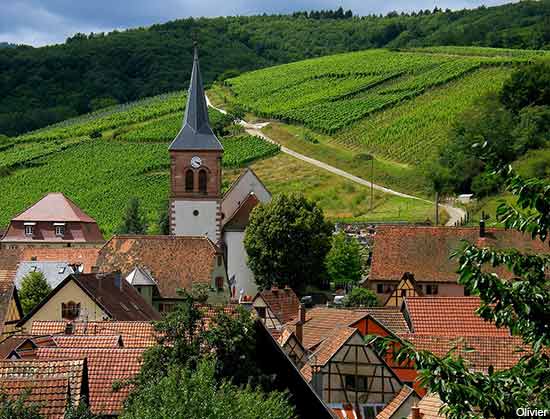 If you're considering staying in a hotel in Albé, you'll need a car...
None of the villages in the Val de Villé have train stations, but they are relatively close to each other and you can easily hike from one to the other (or rent a bike and make a short bike ride if you prefer) if you choose to stay at a hotel in Albé.
You'll find more information about scenic hikes from village to village in the tourist offices in some of the different villages of Val de Villé.
And there are plenty of interesting Alsace attractions just a short drive away from Albé which is unusual considering that Albé is in a valley in the Vosges mountains.
Distances given are the approximate distances from the center of Albé.
Villages with a * have a train stop or train station.
Dambach la Ville*
8 miles/13 km
Dambach la Ville is the sort of Alsace wine village where you can walk around anywhere and see something really beautiful, medieval city walls and gates, beautiful old homes and a very interesting chapel. And there is a train station, so you can try one of the 30 wine producers in Dambach la Ville without renting a car!
Andlau
9 miles/15 km
Andlau has been making wine since Roman times when retired Roman legionaires started planting vineyards here. If you love old medieval houses, you'll see lots of them here in Andlau and if you're in the mood it's only a half day hike (3 hours average there and back) up to see two medieval castles (Haut Andlau and Spesbourg). And when you get back you'll have a good excuse to sit back and try some Alsace wine on your Alsace vacation!
Scherwiller*
10 miles/16 km
Scherwiller is known for its Riesling, so if you're a fan, you'll want to stop by. Speaking of which, Scherwiller has a train station so you can drink to your heart's content! And you can make a 45 minute walk to two castles, the Ortenbourg and Ramstein from the village.
Birds of Prey Show
10 miles/16 km
Watching large birds of prey inside the courtyard of a ruined castle (that you can explore either before or after the show) is a great idea for older children (over 10). The younger ones are usually a little scared. It's all in French, but you don't need much translation for this show and it's very close to Monkey Mountain!
Mittelbergheim
10 miles/16 km
Mittelbergheim (like Riquewihr) is one of the most beautiful villages in France, but there are a lot less tourists here. Between Andlau and Barr you'll find some of the best Sylvaner wine (and many other grape varieties) in a quiet and peaceful setting.
Selestat*
11 miles/18 km
Selestat is a small town or a very large village in Alsace that's famous for its 15th century library which contains 70,000 books and documents from the 7th to 16th century and was a part of the medieval Latin School founded in Selestat in 1441. But it's also a beautiful town to wander around in on your Alsace vacation. Check out the Tuesday morning market if you have time...
Monkey Mountain
11 miles/18 km
If you're travelling with kids of any age, here's something fun for them...feeding monkeys at a monkey sanctuary near Haut Koenigsbourg! It's a great way to spend a few hours of your Alsace vacation. Then you can head on over to the Birds of Prey Show nearby.
Looking for a Hotel in Albé?

Les Cigognes isn't really a hotel in Albé. It's more of a vacation club with appartments available to rent. They come with kitchens and all the necessary equipment to cook food. There is an outdoor swimming pool and play areas for children. Volleyball and Tennis courts. A restaurant serving breakfast, lunch and dinner is available as well. There are fun activities planned every day for children and adults free of charge. Wifi and parking are available.