Like the GetAlsaced website and share it with your friends on Facebook!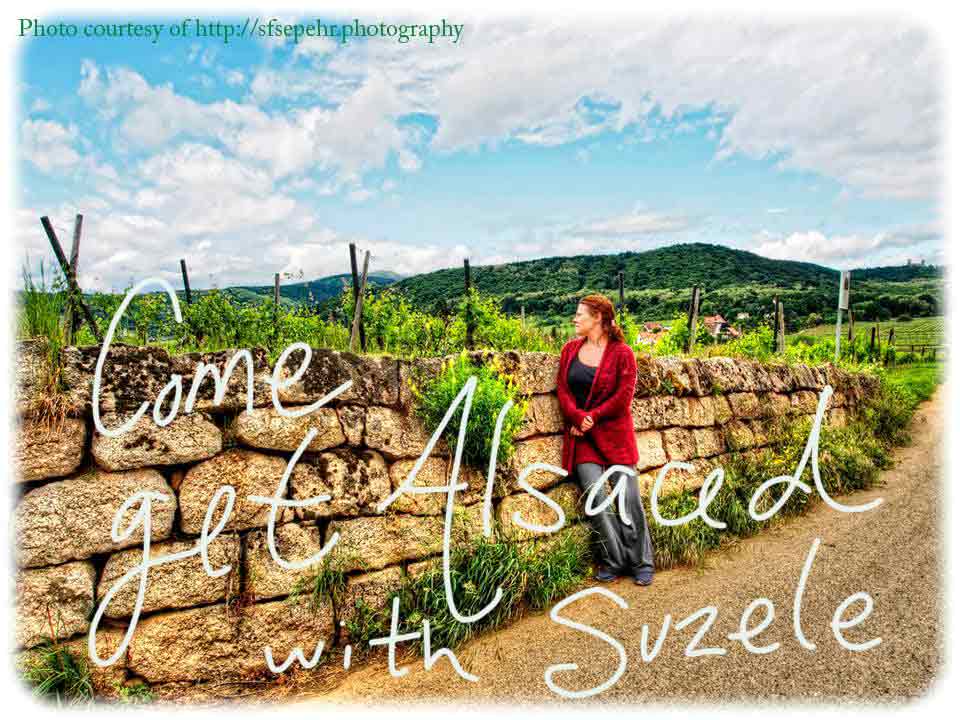 Private Alsace Tours
Your Own Custom Made Tour of Alsace

If you're looking for Alsace tours...

How about:
a private tour with just you and your friends or family
on a custom made tour made just for you

with an experienced guide who has dedicated the last 10 years of her life to knowing everything there is to know about Alsace
and all you have to do is answer a few questions about what you like and don't like and I'll do all the work for you : )

A Few Alsace Tours Reviews

It was a wonderful day - totally suited to my interests with a whole lot of new information to follow up and perhaps a new interest in wine - or at least in practising the art of wine tasting!
Thank you so much for sharing your knowledge and love of Alsace. I look forward to returning for more!!
Best wishes,
Mary, Australia

---
Hi Suzele,

We had the most fantastic 2 days with you. From the storks, to the ancient towns, the battlefield of WW1, 2 amazing lunches, wine tastings that were just perfect.

Your knowledge and manner were exceptional.

The days passed very quickly and we have realised now looking back on the maps how much area we covered. We certainly have a better appreciation of the the region now.

Having travelled extensively and using guides in most localities I can say you rank with the best we have experienced.

Thank you so much - you made a difference to our time here.
Sandra and Janis, Australia

---
Dear Suzele:
We can't stop talking about our trip.  Thanks to you, we ate delicious food in local restaurants, had spectacular wine tastings, avoided the tourist hordes while visiting charming Christmas markets, and learned a lot about Alsace history and traditions.  
It was a pleasure working with you to plan our time together and the way you paid attention to what interests us and created a trip that wasn't just perfect, but was perfect for us, means more to us than we can say. We can't imagine a better way to have visited the region.
Alix and Mitch, NYC
---
I had a wonderful time with you yesterday. Your knowledge and interesting stories made it so much more fun! Today I missed the stories that go with the villages.
Many cheers and thanks to you for making this trip so memorable!
Lisa, CA USA

---
Oh, Suzele don't thank us - we thank you..  What a wonderful experience!  You are a beautiful person. 
It was a privilege to spend these three days with you.  I can't tell you how much I appreciate your knowledge, your historical perspective, your anecdotal stories, your choice of restaurants, your sensitivity to your client's wishes.  You are truly remarkable. 
I hope I can bring you business as people are truly missing out if they don't experience Alsace with you. 
My love and best wishes,
Shirley, NE USA

---
We had a great trip and the day we spent touring the region with you was certainly one of the highlights.  
Thanks for everything, including being so kind, patient and flexible with our little ones.
We are hoping to come back to Alsace at some point in the near future.  If and when we do, we will definitely be in touch.

Jeff, NY USA
---
I think it was in May 2014 when I asked Suzele to show me the most scenic places of Alsace in one day where I can photograph. I was thinking Suzele would be an old lady and as far as she just shows me the places worthy for photography, it would be fine.
However, during the tour and in addition to the wonderful places, I also found a young and good-looking but extremely knowledgeable new friend who I enjoyed her companionship and learnt many things from her.

Eventually after a long time I could complete the post-processing and management of my photography set in Alsace and thought the very first thing I have to do is to thank my new knowledgeable friend, Suzele for such a great day.

So many thanks Suzele and very best wishes for you...

Cheers,
Sohail, UK
---
Thanks again for a lovely day, we all really enjoyed ourselves!
Alison, Switzerland
Get an Alsace tour made just for you...

My love for French and Germanic cultures began quite young (let's just say I began studying them at least a decade before the millenium and leave it at that ; )
And I never stopped studying them! There's nothing I love more than showing people around Alsace
and not just the touristy parts either! : )

If you want to know more about my love for this region, you can go here to get the full story...

A private GetAlsaced tour with me is a great way to make the most of your trip to Alsace without spending all of your time researching everything there is to do here in Alsace.
Besides I've got at least a decade's head start in that area!

There are some really great places to go...that you won't find in a guide book
Except maybe my guide books ; )

And a private tour means you don't have to share space with anyone else!
You'll get the tour you want, not some standard tour with 10 to 20 or more people that you've never met on a bus.

Some More Alsace Tours Reviews

Thanks for a great day...we are looking forward to all the great wine we purchased.
Brenda, Canada

---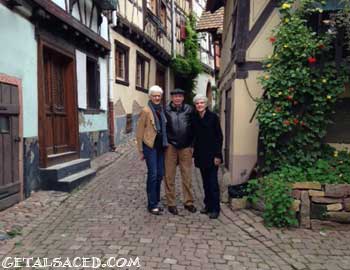 While exploring options for our 2 days in Alsace Lorraine, I was intrigued by the website "Get Alsaced."  Ultimately I corresponded with Suzele, arranging for her to spend a day showing us scenic villages along the Wine Route.
Suzele knows Alsace, understood our priorities, and took us to places we would not have located ourselves--small villages, local restaurant, an independent grower's small winery, while noting architecture of interest along the way.  
Suzele is organized, relaxed and clearly loves where she lives. She listened to our interests and delivered! Enjoyable day.  

Jane, MI USA

---
Monique and I both very much enjoyed our day with you. You offered many interesting insights and allowed us to just enjoy our time rather than worrying about where to go!

Hope your summer is busy and that you make many new friends!
Thanks again Suzele – hope to see you again.
John and Monique, Canada

---
Thank you - our day with you touring the wine road was one of the highlights of our trip!
Rhonda, Texas USA



What Sorts of Alsace Tours

Can You Do?
Each of my Alsace tours are unique and made to fit your interests. I don't have any standard tours with massive groups of people.
I want to interact with you, not talk at you with a microphone.

I'm going to show you the real Alsace, not just the usual tour guide book stuff.
I'm always out there giving tours, doing in the field research or in the rare books section of the library going deeper (because I'm just so darned curious : )

I can go with your requests or your preferences.
I can create something for you based on your interests.
Here are some Alsace tours ideas that might interest you!
Wine tastings in small family owned wineries, hand selected by my never-ending quest for the best wines in Alsace
Alsace Wine 101: On my wine tasting tours, you'll experience what "terroir" is and learn a lot about Alsace wine through your taste buds ; )

World War tours in Alsace featuring World War One trenches, Nazi occupied Alsace, Maginot Line forts, bunkers and battlesites
Medieval villages and Alsace's Culture and Traditions
How about an Alsace Wine and Food Tour! A taste of Alsace? I've spent the past 10+ years searching high and low for the best food shops and restaurants!

Photography Tours of Alsace's most scenic areas, especially areas that not many people know about : )
Genealogy Tours focused on your family history or Alsatian history, culture and traditions when your ancestors lived in Alsace

Just some ideas to get the ideas flowing... I'm probably most well known for my single or multiple day Alsace tours where I tell you the story of Alsace through its backroads, its villages and towns, its food and most definitely its wine!

So What's Next?
I'll need to know a few things like:
When are you coming?
What town or village are you considering or have you reserved?

How many people are coming with you?
What do you want to do or what are your interests?
The cost will vary depending on
where we are going and what we are doing
270€ or more for 2 people for a full day
320€ or more for 3 people for a full day
350-400€ for 4 or more people for a full day
Just send me an email and we can get started planning your very own private Alsace tour!
Has this site helped you?
Sharing is the best way to say "thanks!"
Click "like" or "share" to share this specific page with your friends! Thank you so much for your generosity : )

How Was Your GetAlsaced Tour?
What did you think of your GetAlsaced tour?
Leave your comments here!
Share Your GetAlsaced Tour Experiences Here!
Click below to see everyone elses' reviews of GetAlsaced tours!